21 September 2021
5 minutes
Website Accessibility
A New Responsibility for Website Studios: Website Accessibility
Design agencies hold a significant amount of responsibility for ensuring the success of their clients' websites. From front end design to UX, there is intention and strategy behind everything that builds a successful website.
As website compliance standards worldwide become more strict, especially in the United States (ADA compliance for websites) and Canada (AODA in Ontario), website studios are finding themselves tasked with a new, urgent responsibility: Taking care of their client's website accessibility strategy.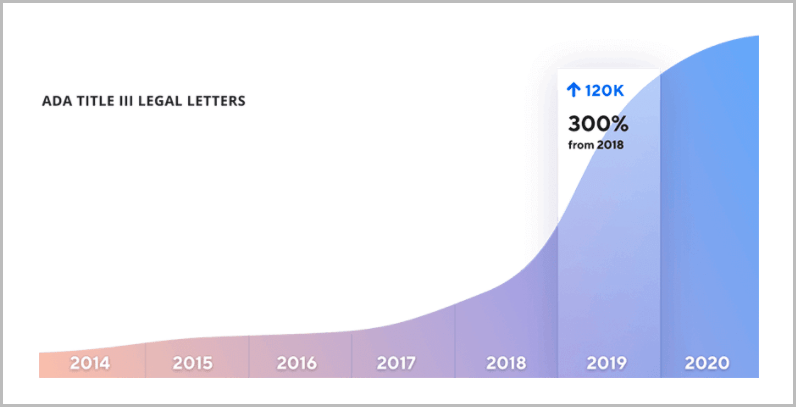 How Agencies Are Uniquely Positioned to Answer Client Accessibility
As website compliance laws around the world become standard, companies must maintain websites that meet regulations and requirements. The requirements include everything from UI and design adjustments to conducting a correct website mapping using alt tags. Most likely, your client will not know how to implement these changes or what they even are. It is now the studio's responsibility to proactively address the issue of compliance and offer an effective solution for the client.
Furthermore, with automated solutions and partnership programs available today, you or your studio may even generate extra revenue while providing your clients with a crucial service.
Studios can operate off of a "white label" model that allows them to maintain their branding and control pricing, or work with existing partnership offers from leading companies offering AI solutions.
Studios that have recognized the increasing trend of accessibility lawsuits and answered the call early have seen great success.
Web Accessibility Solution for Agencies and Studios
If you own or work with a web studio, or you are a web designer, development or marketing agency, or even a freelancer, website compliance will be an essential part of your work. While you or your studio contributes to the important cause of reaching a wider audience and allowing all users to interact with the sites you build or manage, your business can also earn extra revenue with partner's programs with companies like accessiBe and Audioeye. 
Our #1 pick for partners: accessiBe
accessiBe is currently the number 1 solution for website accessibility. With an easy to install and elegant interface, you can give individuals with a variety of needs an effective way to navigate your website. It is an ideal solution, especially for SMB's, though it is suitable for any size website. The company's clients include websites that have five pages up to websites that have millions of pages.
The healthy amount of large enterprise, legal, and government clients that are using accessiBe and a recent investment of $28 million from a well known VC add credibility to accessiBe's solution. We believe you can feel safe choosing accessiBe to make your client's websites compliant and up to the WCAG 2.1 AA standards, ADA Title 3 and AODA.
With accessiBe's partner program, you'll go through a demo and become well-versed in what the company offers. Next, you'll get a partner account where you can create accounts for your clients.
You'll receive a commission when your clients buy licenses, or you buy it for them: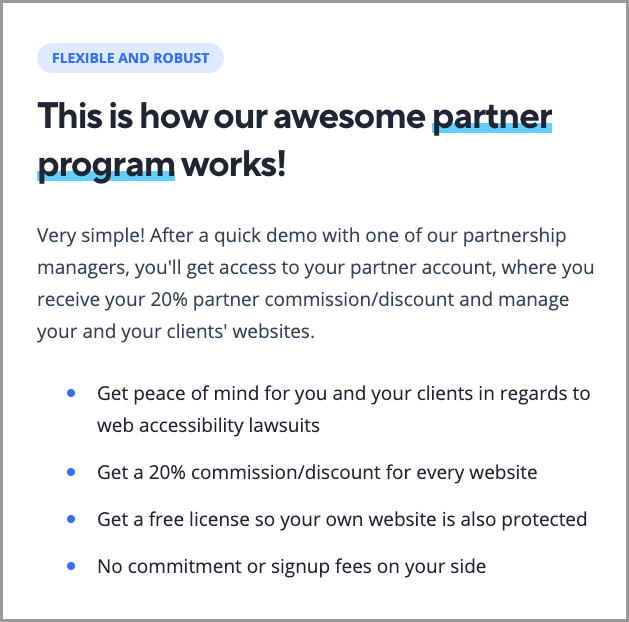 Our #2 pick for partners: Audioeye
Audioeye is a publicly traded company and a leader in web accessibility solutions. Armed with AI technology, patents and years of experience, Audioeye will ensure long term accessibility solutions for your clients.
Audioeye also offers automated website accessibility solutions for ADA and WCAG compliance. When you or your agency become a reseller with them, you get access to bulk pricing, a dedicated account manager, priority access, a self-service admin dashboard, early access to new features, and more. 
Audioeye's partner program  supports agencies of all sizes. You can become a reseller, refer partners to Audioeye or if you're a CMS you can build direct integration through Audioeye's API.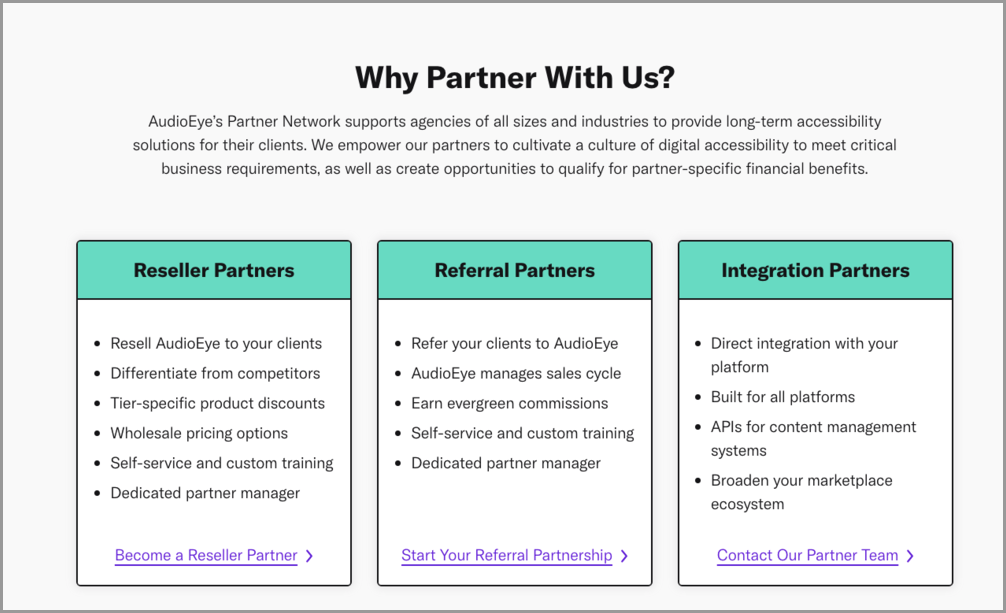 Looking Ahead
In both of these partner programs, agencies can make 20% recurring revenue from the accessibility solution's cost. That means every 100 referred clients can generate your business  $10,000 year in income.
The"white label" option offered by both programs can empower your business to provide automated solutions for accessibility, without losing branding or control over pricing.   
Signing up as a partner or reseller with an automated website accessibility solution can make real sense for your boutique agency or business. First and foremost, you get peace of mind for yourself and your clients, knowing you are protected from litigation. Additionally, you have the power to offer your clients a quick and cost-effective way to achieve compliance: no more headaches, extra hours, and huge expenses. 
Agencies who are quick to work with an automated solution like accessiBe or Audioeye will benefit from offering their clients more complete and well-rounded solutions. Answering their needs and educating them on important issues they may have not known about can uniquely position you as a strategic and vital partner for your clients. Of course, gaining a competitive advantage against other agencies never hurts either.
Explore partnership programs with accessiBe and Audioeye and learn how you can expand your business and client services today.