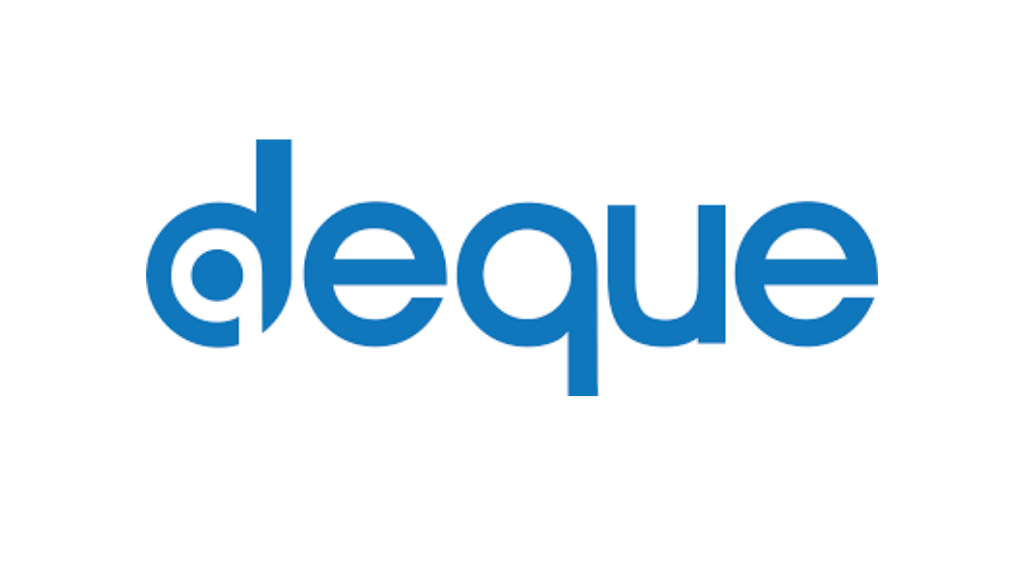 Danny Trichter
accessibility solutions
Review of Deque Systems: Solutions, Features, Compliance, and More
Whether you're looking to build a complete website or just add an extra level of convenience to your site, Deque Systems will help you achieve your website accessibility goals. It is truly a comprehensive solutions provider for your website accessibility needs.
Over the past decade, many regulations have been put in place to improve the accessibility of websites. Businesses and brands collaborate with different companies that provide web accessibility solutions to comply with website accessibility standards. 
So, these companies help you attain website accessibility regulations, with some differences in their services. You can check our guides on Level Access, Siteimprove, Monsido, and many others that will help you make an informed decision.
But today, we are reviewing one of the pioneers and industry leaders, Deque Systems. Please continue reading to know more about their offerings!
If you want to know more about ADA-compliant websites, visit our guide below. 
About Deque Systems
Deque Systems, Inc., more popularly known as Deque, is a technology provider that's been an industry leader in the field of website accessibility. They're based in Herndon, Virginia, and have headquarters in Ann Arbor, MI, India, and the Netherlands.
Being in the industry for two decades, they're a trusted, well-known, and well-reputed website accessibility provider in the accessibility community.
In addition, the company is famous for its market-tested tools and effective delivery of meeting the accessibility needs of businesses.
Deque Systems also provides holistic services, including both automated and manual testing. They have a reputation for providing complete accessibility suites, compliance solutions, and accessibility training.
Deque Systems Review
Businesses are always looking for ways to make their website more appealing to visitors. To this end, websites are filled with design elements that can make your website stand out.
As mentioned earlier, Deque Systems is a web accessibility company that provides both automated testing and human expertise to create the most accessible web content.
In this section, we'll review several aspects of Deque Systems, including their services and pricing.
Solutions and Features
Deque Systems provides a range of solutions for websites across the entire development cycle. With these tools, you can ensure that your digital assets are fully accessible.
Browser Extension
Deque's browser extension enables you to scan a webpage, helping you identify accessibility issues on your website. The scan also provides practical solutions to your problems with full details on the issues and solutions presented.
Intelligent Guided Testing
This tool helps developers answer simple questions about website content, incorporating information to generate accessibility issue reports. These tests are AI-powered and are the basis of more complex accessibility testing, including keyboard and links testing.
DevTools Pro and Enterprise
DevTools Pro is the lower-tier browser extension with component-level testing. It's guided by machine learning and also has detailed remediation support.
On the other hand, the higher-tier DevTools is Enterprise, which features the same Pro tools. However, Enterprise includes CLI, CI/CD integration, mobile testing, and premium security and support.
WorldSpace Attest Toolkit
Deque's fast and secure WorldSpace Attest toolkit is quick and easily customizable. It also integrates with several testing frameworks.
Additionally, this toolkit provides the developer with the power to quickly run automated web accessibility tests.
Amaze and Axe Plugin
Deque is a simple and fast way to add missing textual information, HTML elements, and structural information to any web page.
On the other hand, the Axe Plugin works with applications coded in a variety of programming languages. This ensures a consistent approach to accessibility testing.
Supported Platforms
Deque's services are compatible with several platforms, including browsers and mobile. Their DevTools caters to different users, including front-end web developers, designers, and test engineers.
More so, their mobile compatibility also supports android and iOS platforms. 
Compliance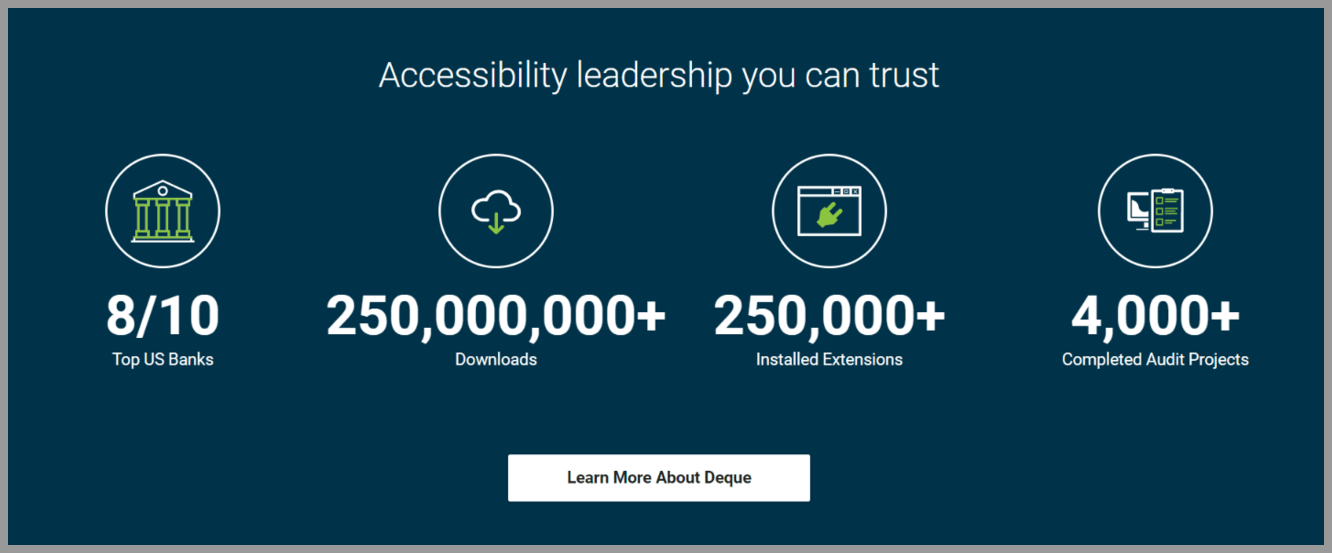 Deque Systems provides various solutions and services to cater to your business's website accessibility needs. According to Deque's website, their services help you comply with ADA compliance guidelines, WCAG guidelines, and Section-508 guidelines.
You can also achieve compliance with the AODA, CVAA, and VPAT through Deque's services.
Pricing
Deque's pricing is customized, given that they can help you initiate website accessibility efforts from any stage of development. Thus, pricing will depend on the intensity of the service you need from them.
However, you can begin your website accessibility efforts with a free audit. Just keep in mind that tools will cost separately if you exceed $700.
Pros and Cons
Here are some of the pros and cons of Deque Systems that you should know about:
Pros
Provides effective solutions to comply with ADA, Section 508, and WCAG 2.1 Level AA

Manual remediation guarantees 100% compliance to

website accessibility

standards

Offers testing and monitoring tools for compliance tailored to your needs

Comprehensive

website accessibility

training

Gives proof of conformance
Cons
Provides limited support options

Manual adjustments can be time-consuming
Customer Support
Deque Systems provides you with a range of services, including accessibility consulting, audits, and accessibility training. With these services come several platforms to help you get in touch
This way, Deque's experts understand your organization's accessibility needs. In addition, they also recommend accessibility compliance strategies and tools.
There are several ways to reach Deque Systems, including mail and phone. You can also receive technical support through the how-to instructions the company provides.
Deque Systems also has many blog posts and news pieces for you, covering a wide range of accessibility topics and various standards.
Final Verdict
Deque is an industry leader in website accessibility, offering support for websites with both mobile and desktop platforms. It's been in the industry for years, making it one of the most reliable accessibility providers in the industry.
However, they also have shortcomings, including limited support options and user reviews. But, rest assured that the benefits precede its imperfections.
While you take your time to decide and choose a company to avail accessibility solutions, start by conducting the audit of your website at Accessibility Checker
Liked this review? Read more helpful resources below: