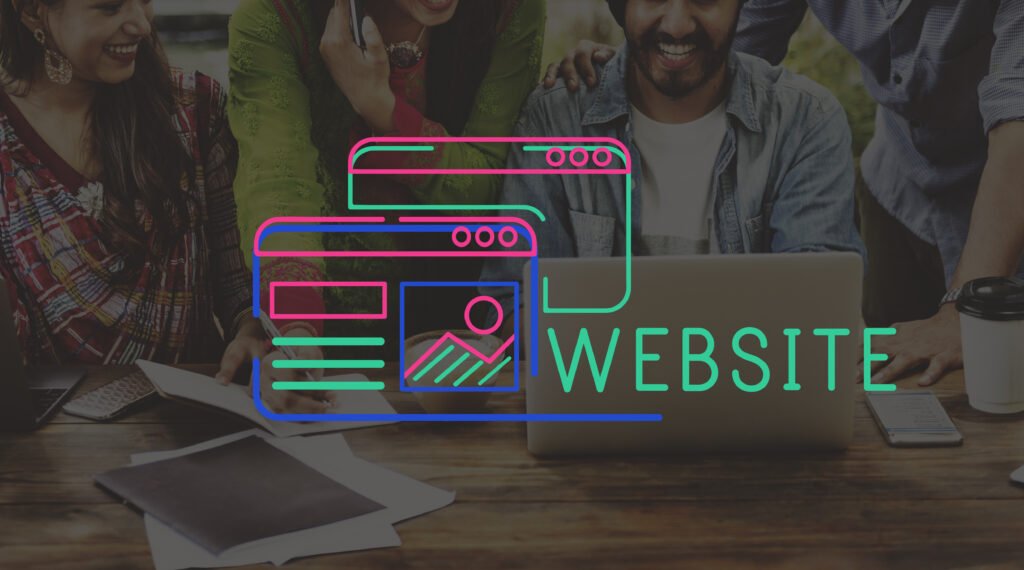 Erin Easley
accessibility solutions
Top 4 Accessibility Plugins For Your Website
The U.S. Department of Justice passed the Americans with Disabilities Act Standards for Accessible Design. It mandated websites to be accessible to those with disabilities in 2010.
Maintaining your website to be ADA compliant helps protect your company from litigation and penalties. Plus, it offers basic accommodations for your prospective consumers.
Accessing website services has become more difficult for those with disabilities without assistive technology. Hence, you should design your website with access platforms and tools to reach a larger audience with your digital services.
Here, we'll discuss the top five accessibility plugins for making your website accessible and compliant.
If you want to know more about what ADA compliance is for websites, please visit this page. 
Benefits Of Using Accessibility Plugins
Installing accessibility plugins will make your website more accessible and ADA compliant. 
Aside from making you website  ADA compliant, these plugins also help with the process of making your website access simple, seamless, and fast. Here are some additional advantages of using plugins:
✅ Promote inclusivity. Plugins have requirements that pertain to the actual code instead of the way something looks on the outside. They make web pages compatible with screen readers. Screen magnifiers and screen readers both read information aloud and magnify it.
✅ Improve SEO. Video transcripts have a clear advantage: they open up video material to a much wider audience. Even though videos help in increasing sophistication, search engines do not index the content of your films. Accurate transcription of the video's audio should be available together with the video on the same page.
✅ Increase page relevance. Anchor text optimization serves the same function as alt text optimization as it ensures the link is displayed to the user in a relevant and accurate manner. When you utilize good anchor text in your links, readers have a better idea of what they may anticipate from the website to which you are referring.
Best Accessibility Plugins
Add more readability choices for your users using one of the following plugins. We will go through these top accessibility plugins and see what they can do for your website.
AudioEye
Overview and Features
AudioEye's process of making your website ADA compliance begins with step 1 – Checking your website's code and design for accessibility. The proprietary technology of AudioEye checks for over 400 different accessibility-related issues. Then it automatically solves most of your accessibility issues. That's cool!
As soon as you add AudioEye to your site, you'll see your Accessibility Score. After that, AudioEye constantly renders your website and keeps an eye out for new problems, and fixes most of them in a matter of seconds for every visitor.
The ones that are not completed automatically, are completed manually by AudioEye's professionals. 
The certified accessibility specialists at AudioEye are here to assist you at every step of the way. 
Also, in the event of a lawsuit, AudioEye will assist you throughout the process.
Here's a brief of what they offer:
Compliance with ADA, WCAG 2.1, Section 508 and AODA

Basic Legal Support & Warranty

​Advanced Legal Support

AudioEye Trusted Certification​

Toolbar with 24/7 Helpdesk​ Usability

AI-Powered Tests & Fixes​

Certified Accessibility Experts Access

Manual Remediations

Custom Training

Premium Support
Pricing and Compatibility
You can only use the AudioEye plugin if you have a current membership to the AudioEye Plan, which is available for a low monthly fee (starting at $49 per month). With a wide range of free and premium services, it's a fantastic option for your accessibility needs.. 
AudioEye is compatible with all these major CMS systems and provides more than simply a toolbar widget or problem detection. It can assist you with bringing your website up to WCAG 2.1 and ADA compliance quick.
These are the major CMS platforms AudioEye is compatible with:
Shopify

Wix

WordPress

SquareSpace

Duda

Webflow

Google Tag Manager

Drupal

Magento

HubSpot

WooCommerce

Volusion

BigCommerce
User-friendliness and Customer Care
Website owners may use AudioEye for free to make changes to their site without purchasing a premium plan. The AudioEye accessibility plugins give users the ability to personalize web pages according to their preferences. This platform has a high degree of usability.
AudioEye is doing all to make it tough against rivals to stay ahead and remain at the top. There is a substantial video instructional archive available for it.
Enterprise and managed customers are also invited to live webinars regularly where the latest trends and insights are shared. Customers and end-users may contact a 24/7 support desk by mail or phone to report accessibility problems.
If you want to learn more, check our in-depth AudioEye review or go to AudioEye's website and sign up for a free demo
accessiBe
Overview and Features
accessiBe is also a highly recommnded accessibility plugin. It enables your site to be completely ADA compliant, entirely automated utilizing sophisticated technologies, such as computer vision and AI.AccessiBe's user interface allows anybody with sight impairments to change your website's layout and font size. Plus, it fulfills all WCAG 2.0 requirements up to full AA compliance levels. AccessiBe worked extensively with the motor and visually impaired and epileptics to develop a widget tailored for their particular requirements.
Furthermore, AccessiBe's AI analyzes and scans websites through contextual understanding and recognition. It is to learn what elements and functions they include and adjust them depending on your users' screen-readers. It automatically adjusts the:
Icons & Buttons

Alt Tags

ARIA Attributes

State Controls

Forms & Validations

Roles & Landmarks
Pricing and Compatibility
AccessiBe's price will persuade you if the features don't. It is because AccessiBe's pricing is reasonable for the value it offers. There are four price tiers available for AccessiBe, depending on the size of your website. The fee starts at $49 per month.
AccessiBe is platform-agnostic that may function on any website and platform, whether a recognized brand or a custom created one:
SquareSpace

WooCommerce

WordPress

Magento

Shopify

Webflow

Wix

PrestaShop

Volusion

BigCommerce

Drupal

Google Tag Manager

Concrete CMS

Umbraco

Site 123

Jimdo
User-friendliness and Customer Care
You'll know which sections aren't accessible to individuals with disabilities and what you need to do to fix them in a matter of seconds. The audit is very thorough, giving you a total score for each test and explaining the results for each one. 
There will always be problems, even with the best solution. As a result, AccessiBe provides customer service through the following channels:
A resource center with a helpful information

Email

Facebook Messenger

Live conversation
Thanks to these resources, you'll be able to get the data you need to use this solution effectively.
Read our extensive AccessiBe review to help you understand more about this platform and plugin, or simply go to their website To find out more
EqualWeb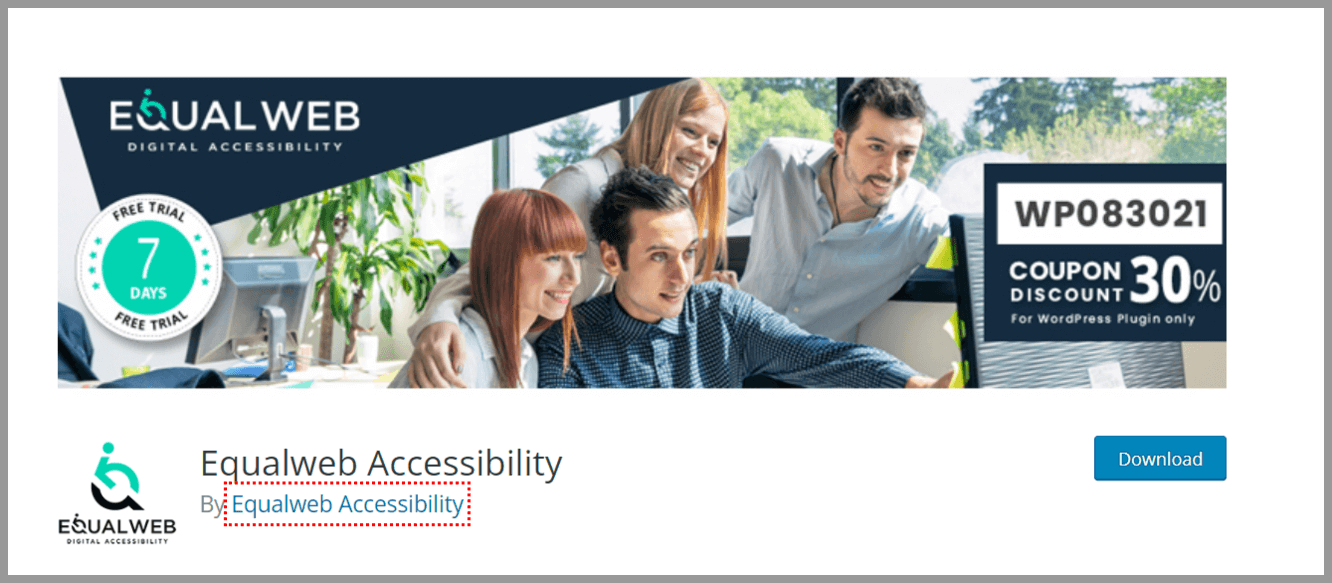 Overview and Features
EqualWeb, the fastest and most cost-effective approach, is now available on the market and can help you meet worldwide accessibility requirements.
An online remediation widget driven by artificial intelligence (AI) has been developed to make effective accessibility plugins.
For a more tailored browsing experience, the widget offers 27 accessibility features and a choice of 32 languages. When it comes to accessibility, the menu offers a wide range of useful options, including:
Screen reader adjustment

Keyboard navigation

Numeric navigation

Blink block

Text reader

Voice commands

Color adjustments

Font sizing

Includes real-time accessibility scan monitoring to make WCAG 2.1 and ADA compliant

Automated AI-powered
Pricing and Compatibility
When it comes to EqualWeb pricing, you have a choice between free and custom offerings. If you're a first-time client, you have five choices to choose from: Free, Small, Medium, Large, and Full Remediation.
Equalweb is compatible with more than fifty different CMS and HTML systems, including but not limited to:
WordPress

Weebly

GoDaddy Website Builder

WooCommerce

Drupal

BigCommerce
User-friendliness and Customer Care
For complete WCAG compliance, it offers an automatic and manual solution. In the accessibility widget industry, EqualWeb is a market leader.
Contacting Equalweb is as simple as dialing the company's phone number, sending an email, or filling out a contact form. There is no live chat option on Equalweb's website, but you may schedule an appointment with a customer care representative by clicking the customer support icon. 
If you want to learn more about this platform, check our detailed EqualWeb review.
UserWay
Overview and Features
Accessibility Widget made by UserWay is simple to set up, loaded with useful accessibility plugins features, and priced affordably. Using UserWay's accessibility platform, your website will become ADA compliant and provide an accessible user experience.
Web accessibility looks daunting, but, User-Way offers to handle the hard work for its customers. Like most automated accessibility technologies, User-Way online accessibility solution causes no damage in restructuring your website. There are three key features for this platform:
Accessibility Audit

Accessibility Scanner

Content Moderator
Pricing and Compatibility
There are a variety of widget plans that customers may select from based on site traffic. Business websites are categorized as small, medium, or large. Plus, there is a provision for a bespoke plan.
UserWay functions work perfectly on major content management systems (CMS):
Strikingly

WordPress

SquareSpace

Shopify

Joomla

Magento

WooCommerce

Wix

Volusion

Big Commerce

Webflow

Drupal

PrestaShop

Site 123

Concrete 5

Web.com

Jimdo

.Net Nuke

Umbraco
User-friendliness and Customer Care
UserWay is easy to use as it gives you the option of customizing the accessibility widget icons that appear on your site. After that, choose the button for accessibility and customize its color to match the rest of your website's design.
Customers may contact UserWay customer service by completing an online form. Another option is the Live Chat feature on the business website. Therefore, it is not a part of the firm's customer service strategy.
For an in-depth discussion of this platform, browse our UserWay review. 
Plug It In!
Accessibility should not be deemed as an option or as an afterthought, but a necessity for your website to become ADA compliant. The ease of use, compliance, and intuitiveness of accessibility plugins may affect your overall decisions for your website.
If you want to succeed with your accessibility efforts, you need more than just a convenient plugin. Begin by making an audit of your website at Accessibility Checker! 
Found this article insightful? Check out other helpful guides here: