Our Mission
There are over 400 million active websites in the world and fewer than 1% are accessible. Over the past five years website accessibility lawsuits have risen 300% YOY.
AccessibilityChecker.org's mission is to arm businesses with the most accurate and reliable information in order to avoid web accessibility lawsuits, and in turn create an easy, seamless web experience for the wider disabled community.
We've built a free and easy to use tool that analyses any given web URL and provides a detailed accessibility report, outlining the exact website elements that fail to comply with worldwide (WCAG 2.1 level AA) and local (selected countries only) accessibility legislations.
Here's an example of an accessibility report: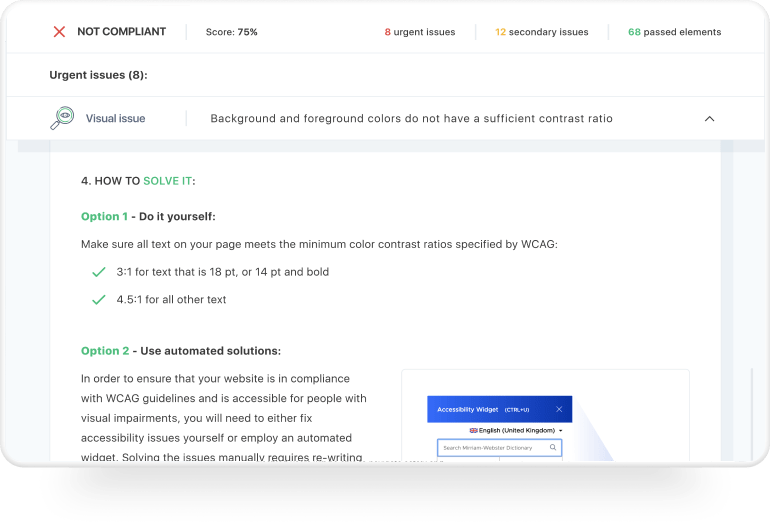 We made sure to include a detailed, drilldown description for any accessibility issue that might be identified, with "how to fix" instructions to achieve complete compliance:
Our Story
Starting a business from the ground up is never an easy task, as we learned when establishing our ecommerce business in 2014. We encountered ups, downs and many unexpected obstacles. But, after much determination our small company grew into a midsize business. Everything was going according to plan, until we received an accessibility demand letter ourselves.
Receiving a demand letter / lawsuit is never easy, but when it deals with a sensitive subject like disabilities the feeling is even more unsettling. While admittedly we weren't aware of this web accessibility issue, as we never encountered it in our personal lives, it did lead us down an exploratory path, lending us to dig deeper into the subjec
Through our research we uncovered an abundance of information including the difference between a demand letter and a lawsuit, the type of lawyer one needs to navigate this kind of situation and different legislations around the world, including, ADA, AODA, EN30541.
We read through numerous case studies on the topic to arm ourselves with the most accurate and reliable information and educated ourselves on other possible website accessibility solutions on the market.
In the process, we've decided to custom-build our own accessibility audit tool, to be able to constantly & efficiently monitor the compliance levels of new content added to our set of ecommerce websites, which ultimately led us to create AccessibilityChecker.org and share that creation with the world 🙂
FAQ
Does AC sell anything?

No. Our sole goal is to provide the most accurate information and accessibility audits to website owners and developers.

How does your site fund its operation?

AC is funded by referral traffic. If you find our website and information helpful and decide to sign up to any solution using the link we provide, we sometimes receive a small referral fee. Most accessibility solutions and services offer free trials or money-back periods, which means that unless you're happy, we don't get paid. In any case, we don't give priority to any solution and pride ourselves on thoroughly researching all solutions before we recommend them to you.

Does it cost more to sign up for an accessibility solution or service through your website?

No, you will never pay more for a product by going through our site. In fact, it's often the opposite, as we can sometimes negotiate special discounts for our readers. Any commission we receive comes directly from the company itself – it never costs you a cent extra, and it means we can make enough money to support our cause.

How can I trust your recommendation?

The content on accessibilitychecker.org is well-researched and audited by a variety of external experts in compliance, local legislations and AC official accessibility guidelines to provide the most accurate information to our readers.

How can I find the right solution to make my website compliant and accessible?

Simply enter the URL into our auditing tool and you will receive a report that identifies accessibility errors and recommends the best solution to meet your specific needs.

Do you have any questions?
Send us your question and we will reply as soon as we can