Web Accessibility Remediation: Best Practices for Inclusive Design
Accessibility has become a cornerstone of inclusivity. 
Any website owner who wants to adhere to the necessary web accessibility guidelines will need to undertake an accessibility remediation process.
This blog will unpack the steps you must take to comply and provide a more engaging online experience to all visitors.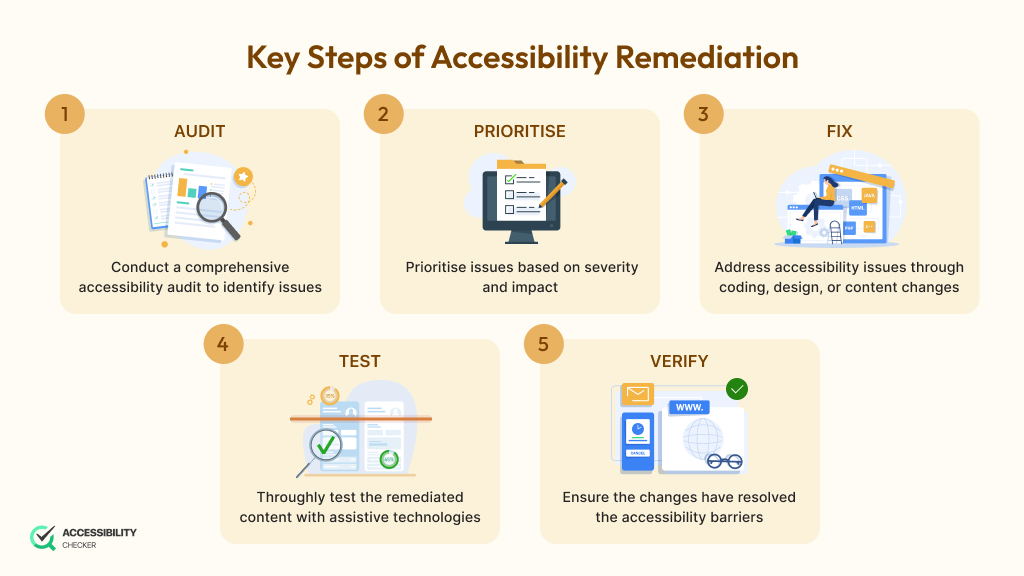 What is Accessibility Remediation?
Accessibility remediation is the process of ensuring any digital content is accessible to users with disabilities.
Whether you have an existing website or are in the process of designing one, the disabled community needs to be considered. 
Website accessibility remediation will also ensure that you comply with standards such as the Web Content Accessibility Guidelines (WCAG) and specific disability acts and legislations such as the ADA or Section 508. 
Content that can be remediated for accessibility includes websites, online documents, video, audio, and podcasts. 
Also read: A comprehensive guide to document accessibility
Why Website Accessibility Remediation Matters
The disabled community faces challenges daily, and it's our responsibility as a society to provide assistance through inclusivity wherever possible. Even more so because we rely on the web to shop, learn, socialize, and perform other daily tasks.
As a business, providing a more inclusive online experience can help build credibility and trustworthiness, factors that can make or break a brand in the competitive digital landscape.
Over and above this, it's the law. Acts such as the ADA, AODA, and legislations such as Section 508 all reference web accessibility in some form or another. Businesses that fail to comply could face large fines and unnecessary lawsuits, which could have detrimental long-term effects.
What is Document Remediation?
When you first start exploring web accessibility, there's a greater emphasis on websites. However, accessibility guidelines also apply to documents. 
Accessible documents are clear and easy to understand. When a document is tagged correctly, it's compatible with assistive technology such as screen readers, which many disabled users rely on to interact online. 
Document remediation also takes cognitive and neurological impairments such as dyslexia and color blindness into consideration. This means color contrast and the overall structure of a document matter too.
If you house documents online or on your website, it's essential to include them in your accessibility remediation process.
The Website Accessibility Remediation Process
Let's delve into a more detailed overview of the accessibility remediation process.
Audit Your Website
Before remediation can begin, accessibility testing is necessary. 
There are a number of free and paid tools that you can use to do this. AccessibilityChecker, accessiBe, and Userway are just some examples of popular tools.
Using your site's URL, these tools will audit your site according to WCAG as well as the major web accessibility acts. 
Following the audit, you will receive a detailed report outlining the level of accessibility your site has achieved and issues that need to be addressed. Examples of these issues could be:
Insufficient color contrast ratios

Lack of alternative text

Keyboard navigation is not supported

Incorrect header formatting

Poor or confusing navigation structures
This report is what you will use as a guideline to start remediating your website. You can also use this guide to WCAG standards during this process for a more comprehensive overview of what you should consider.
Accessibility Checker
Scan your website for accessibility related issues for free
Remediate Your Website & Documents
You can now start making adjustments to your website and documents to correct any issues and meet the necessary accessibility requirements. 
Remediation can be done automatically, manually, or a combination of both. Automated remediation is quick and will save you time, but a manual remediation process is often more detailed, so there is less chance of you missing any small details. 
Both options are effective, though, so there's no right or wrong way to remediate your site and documents. 
Accessibility remediation services are readily available if you do not have an in-house team that is able to assist with these updates
Unlock a PDF accessibility quote in
24 hours
or less!
Take advantage of our awesome partnership deals! We'll send your PDF to several companies and get you the best quote they can offer!
Monitor Your Website
Accessibility compliance is not a once-off task. It requires ongoing monitoring as legal guidelines change and as you update your site or add new documents. 
Establishing a monitoring schedule is a recommended best practice. Doing so will reduce the number of changes you need to make at once and ensure you can avoid ADA remediation-related lawsuits. 
Over and above this monitoring schedule, it's best to perform an audit any time you make major updates to your website. 
Lastly, it's recommended that you keep track of any accessibility compliance updates and add them to a statement that's clearly visible on your site. Most businesses add an accessibility statement to the footer of their site for easy access. 
To Sum Up!
With the right tools and assistance, accessibility remediation can be a quick and worthwhile process that will help you do your part to create a more inclusive online space for all.
Making accessibility an integral part of your website design and update processes will also ensure you are always on the right side of the law. 
FAQs
What is PDF Accessibility Remediation?
PDF remediation requires you to tag digital elements within a PDF document to make them compatible with assistive technology such as screen readers. These tags organize the information in your document in a logical order that makes it easy for a screen reader to read the content out loud to a user.