Can Accessibility Really Improve Conversion Rate Optimization?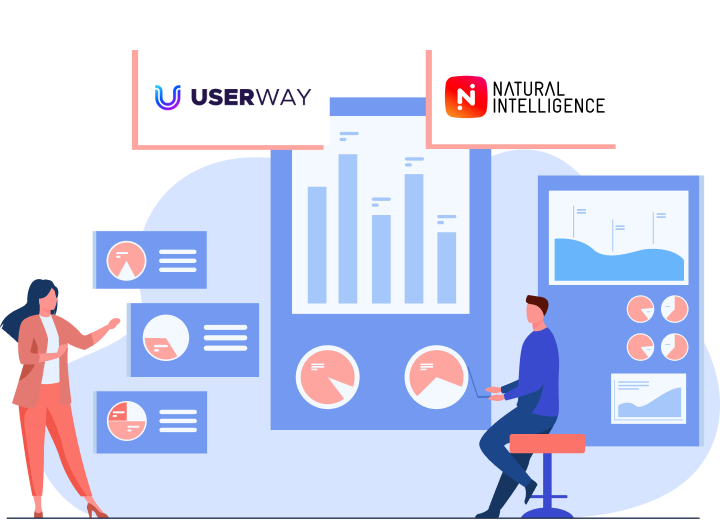 From studying and shopping to banking, so much of what we do starts with a website, making a strong online presence critical for businesses.
In this article, we look at a case study that involves leading global intent marketers, Natural Intelligence, and one of today's top accessibility solutions, UserWay, to unpack whether prioritizing accessibility can:
Attract new customers

Improve the user experience

Boost conversion rates
Chapter 1
The Background

It's no secret that accessibility has exploded onto the scene due to legal risks and usability barriers, but can it have a greater impact than simply keeping lawsuits at bay? 

This section introduces the Natural Intelligence and UserWay partnership to uncover the impact of web accessibility compliance on conversions. 
The Natural Intelligence & UserWay Partnership
Founded in 2009, Natural Intelligence owns brands such as BestMoney.com and Top10.com, sites that connect millions of customers to products and services that are suited to their needs and interests every day.
As an organization that processes over 50 million consumer decisions annually, investing in tools that can impact conversion rates was a logical business decision. 
The Natural Intelligence team currently comprises product managers and designers as well as content, operation, and quality assurance professionals. And, as a team that understands the value of a memorable customer experience, questioning whether an accessibility tool can do more than what it's designed for is a natural consideration.
By partnering with UserWay, Natural Intelligence wanted to test whether complying with web accessibility requirements would automatically give customers more confidence to make educated buying decisions and boost conversion rates. 
Chapter 2
The Link Between Accessibility & CRO

Is it possible for businesses to achieve more than just the appropriate compliance levels using the right accessibility tools? 

In this section, we take a closer look at the results that Natural Intelligence was able to achieve with the help of UserWay's solutions.
By analyzing these results, it's clear that an accessibility solution extends beyond just compliance. 
Click-Through Rates
Metric: CTR measures the effectiveness of online content by showing the percentage of viewers who click on a specific link out of all who see it. It's usually expressed as a percentage. The higher the CTR, the more effective the content is considered to be, as it indicates that a larger proportion of the audience is engaging with the content or call-to-action.
Results: Following the implementation of UserWay's tools, Natural Intelligence was able to increase click-through rates by 1.0%. And when you're processing millions of visitors every year, this increase is quite significant. 
Impact
By creating campaigns and landing pages that were accessible, Natural Intelligence saw an uptick in the number of people who were willing to engage with and click through to its websites, opening the door to more conversions.
Earnings per Click & Visit
Metric: Earnings per Click (EPC) refers to how much revenue was generated by someone clicking on an affiliate link. Earnings per Visit (EPV) is an indicator of how much revenue was generated after someone visited a website. 
Results: After testing the UserWay accessibility solutions on their websites, Natural Intelligence was able to increase EPC by 2.4% and EPV by 3.5%.
Impact
When a consumer encounters a product or service they are interested in but are unable to understand the benefits, where a link might take them, or how to complete a purchase, revenue levels automatically drop. However, when consumers can have a more engaging and inclusive experience online, it's only natural for them to want to do more business with a brand. Numerous studies show that a better customer experience results in greater brand loyalty too with the knock-on effect being more purchases. 
Bounce Rate
Metric: Bounce rate indicates the percentage of people who land on a website but fail to explore the site any further. The lower your bounce rate, the better the experience your website visitors are having. 
Results: Once UserWay's solutions were applied, Natural Intelligence was able to decrease bounce rates by 0.5%.
Impact
A user who is unable to navigate and interact with a website is quick to leave. Along with lost sales, a poor online experience leaves a sour taste and a consumer is unlikely to want to do business with a brand or recommend it. A lowered bounce rate is a clear indication that accessibility improves the user experience, which has the potential to have a positive impact on a business's bottom line.
Additional Positive Indicators
Over and above these stats, Natural Intelligence saw an increase in its overall reach and an enhanced company image due to its commitment to inclusivity. With greater reach comes the potential for more referrals and sales, all because accessibility tools place the power of personalization and customization in the hands of users. 
Fluid content updates were one of the other benefits of Natural Intelligence partnering with UserWay. When you're dealing with large numbers of traffic-heavy websites, not having to manually make changes that comply with web accessibility standards relieves vast amounts of pressure on marketing, content, and product teams. 
This is because many of today's leading accessibility tools only require the implementation of several lines of code to give website owners automation capabilities, freeing them up to focus on other tasks. 
Chapter 3
Why Accessibility Tools Make Good Business Sense

The UserWay and Natural Intelligence partnership is just one example of the positive impact that accessibility can have, but are these tools the right fit for your business?

Let's recap why accessibility solutions were developed in the first place.
It can be expensive and time-consuming to manually remediate a website, which is why automated tools were developed – they're changing the accessibility process in a big way. 
Accessibility automation tools such as UserWay were designed to ensure the internet is an equal and inclusive space for everyone, including those living with disabilities.
In the past, it was incredibly difficult to cater to the needs of every type of consumer, but thanks to advancements in AI technology, it's now possible to provide a more personalized online experience to all.
Accessibility tools alter the code of a website to make it adaptive for visitors with disabilities, with the goal of enjoying and engaging with a site's content in an equal way. They aim to ensure that your website can cater to visitors who rely on assistive technology such as screen readers to interact, shop, and learn online.
Many countries have adopted civil rights that apply to websites, with laws such as the ADA, AODA, the EAA. These use accessibility guidelines such as the WCAG 2.1 as a standard, and soon WCAG 2.2.
Since businesses are now legally required to comply with these laws, tools such as UserWay offer businesses a way to take the next step on their accessibility path. Addressing compliance and usability makes for a better experience for all users.
In essence, it's a win for everyone involved!
Chapter 4
The Verdict

After analyzing this case study from Natural Intelligence, it appears that the implementation of an accessibility solution such as UserWay can have far-reaching impacts that go beyond basic compliance.
Choosing the right tool and receiving guidance on the best way to implement and utilize these tools will obviously play an important role in its effectiveness. 
Accessibility and conversion rate optimization go hand-in-hand. When your website visitors have a more engaging and inclusive experience on your site, it's only natural for them to want to convert and return, making an accessibility solution a sound business investment.