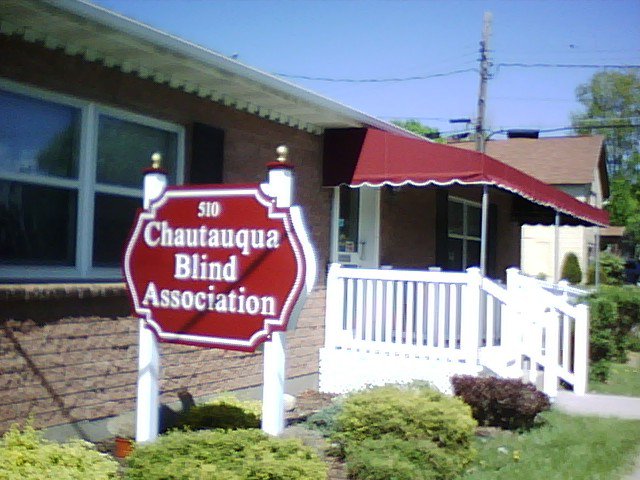 Chautauqua Blind Association
For over 100 years, Chautauqua Blind Association has been committed to helping visually impaired people become active members of their communities.
Anyone who is legally blind cannot perform daily activities without visual interference even with glasses, contact lenses, medication, or surgery. 
Simple activities such as cooking, shopping, and writing can be daily challenges. 
The team at Chautauqua is not only making these activities more manageable but ensuring that visually impaired people can be more active in their communities in general.
Services offered by the center include vision rehabilitation, orientation and mobility instruction, free youth vision screenings, consulting services, and community outreach.
A Brief History
The Southwestern Tier Association for the Blind (STAB) was established back in 1921. Volunteers from Chautauqua, Cattaraugus, and Allegany Counties came together to support and donate their time and skills to those living with visual impairments. 
The counties that made up the association have changed over the last few decades and today, only the Chautauqua and Cattaraugus Counties are served. It was in the 1950s that the name changed to Chautauqua Blind Association, Inc.
The Association is now also a part of CBA Vision Rehabilitation Services. 
Helping the Visually Impaired Thrive
Chautauqua Blind Association is changing the lives of the visually impaired in big ways, ensuring they feel like a valued part of their communities.
Along with the services that they offer, the Association is continuously involved in raising awareness as well as funds to keep doing what they're doing.
Their 10th Dining in the Dark event was a great success, raising awareness by giving guests the opportunity to eat without seeing. Each guest was blindfolded and led into the dining room by sighted guides, trained by the CBA staff.  These guides stayed with their table of guests and assisted them with their meals. There was also a live and silent auction. 
The proceeds went to the Youth Vision Screening Program, which screens over 3,000 children aged 3-6 years annually for early childhood eye disorders.
The Association makes it really easy to get involved in other ways too. You can sponsor an event or program, donate to their annual fund, honor a milestone such as a birthday with a donation, or bequest funds in your will.
There is also the option to volunteer at one of their events or become a committee or board member – an application form is available on their website.
Visit https://chautauquablind.org/ to learn more about this organization.