Hex Productions: Making Websites Accessible for Everyone
Accessibility Badges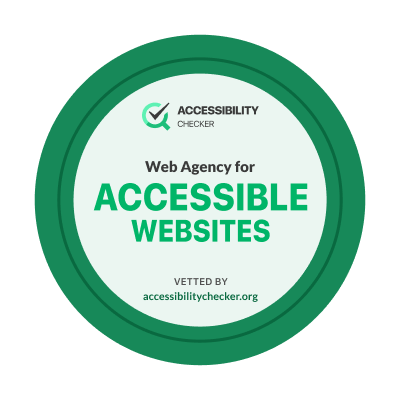 At HeX Productions, web accessibility is at the heart of everything they do.
As a service lead digital agency, HeX helps clients improve their online services, making them better for visitors, including those with disabilities.
Every project they undertake is compatible with assistive technologies, aiding those with visual, motor, and cognitive impairments. Web accessibility is not an extra feature – it's the standard at HeX. 
It's always why they're partners of TerminalFour, the Gov.UK Digital Marketplace, Disability Rights UK, and ShawTrust.
Working with higher and further education providers and local authorities is how HeX is able to improve customer journeys. What's more, they also offer accessibility training to users of content management systems and web editors, ensuring accessibility is an ongoing priority.
HeX works with local government, public sector bodies as well as SMEs and larger organizations across the UK. The team has recently completed projects for Hactar, AccessibilityServices, Homefield, together, and West of England. 
Each project is also tested by disabled users to ensure web accessibility requirements are fully met – this is another notable HeX difference. 
Not Your Average Digital Agency
HeX is committed to designing and building accessible websites and digital platforms. However, it doesn't end there. Here is a full list of services offered by this progressive agency:
Accessible websites and then some. Building accessible websites is the core offering at HeX, but they can also assist with hosting, security, online workflows, and eCommerce solutions. 
Content and marketing that sells. To help their customers make the most of their digital assets, the HeX team also specializes in content writing, social media management, search engine optimization, and email marketing.
Professional media assets. With the help of industry professionals, customers can also turn to HeX for photography, videography, and drone footage. 
Ongoing support. If you don't feel you have the capacity or know-how to manage your digital assets, content, and media, you can sign up for a HeX support package, which you can design any way you want. 
Accessibility training and consulting. And naturally, because HeX is all for accessibility, they also offer accessibility training and workshops as well as consultancy support. Equipping clients with the information they need is how they're doing their part to build a more accessible online environment for all. 
How Accessible is Your Website? 
If you're still debating whether you really need accessibility-related assistance, you can always request a free web accessibility health check on the HeX website.
HeX web accessibility testing includes both automated and user testing methods for a more comprehensive overview. The team will look at the quality of the code on your site and evaluate any errors based on the Web Content Accessibility Guidelines (WCAG). 
You will receive a mini-report that outlines the key issues you should focus on as well as advice on how you can make sure your site meets WCAG guidelines.
If you want to find out more about how the team at HeX can assist you with your online projects and web accessibility efforts, visit https://www.horlix.com/