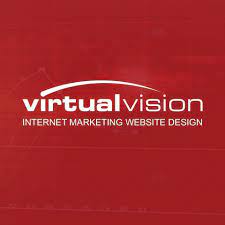 Virtual Vision: Guiding Customers On Their Accessibility Journey
Accessibility Badges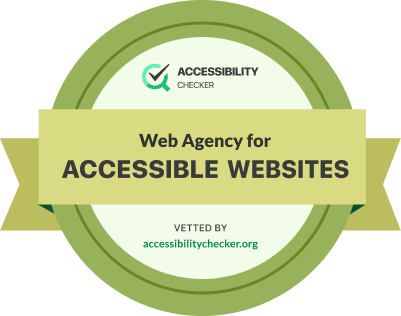 With roots that date back to 1997, Virtual Vision has watched the digital world change and evolve. Today, they are a leader in the digital marketing space, helping customers build brands that are engaging, inclusive, and impactful. 
From design inception and implementation to enhancement and maintenance, Virtual Vision customers can expect an educational, personalized, and memorable journey. 
With a combined experience in web design and accessibility, search engine, optimization, sales, and marketing, Virtual Vision has become a top choice for brands of every size that are looking to make the most of their online presence. 
An Accessible Online Journey From Start to Finish
As a business that's watched the online space progress and advance at a rapid pace, accessibility has become a core part of what Virtual Vision offers.
To date, they have helped over 500 businesses across the U.S. create brands that appeal and cater to an array of users, including those who rely on assistive technology to browse the web.
Countless businesses have come to realize the importance of complying with web accessibility standards from a legal as well as a business standpoint, and Virtual Vision has become a trusted partner in this process. 
Instead of simply running web design and development projects in a silo, this experienced team makes a point of also guiding and mentoring their clients, equipping them with the skills they need to keep making a difference in the lives of their customers. 
By offering a more inclusive experience, businesses are able to reach more customers online, increase sales, boost their brand reputation, and comply with the necessary web accessibility standards, avoiding legal issues. 
Everything You Need to Successfully Promote Your Brand Online
Virtual Vision's services don't just start and end with accessible web design and development – they offer so much more. This range of services was designed to set businesses up with everything they need to build the strongest online presence possible.
Website management. Having an accessible website is just the first step. If you don't maintain your site, it's easy to fall behind on accessibility compliance requirements and get lost in the noise. Virtual Vision offers website management services that can help you avoid this. Whether it's auditing your site against the latest accessibility standards or maintaining your content, this team is ready to assist. 
Search engine optimization. Driving more targeted traffic to your site is another core service this agency offers. Optimizing your site helps you stay ahead of competitors by exposing more customers to your brand on major search engines such as Google, Yahoo, and Bing. 
Pay-per-click. Launching a new product, service, or campaign and need help with pay-per-click advertising? Virtual Vision can help with this too – from strategy to campaign implementation. 
Social media. Simply having a social media profile is not enough. You need to be consistently active if you want social media to work for you. If you don't have the time to do this, this team of experts can assist with daily, weekly, and monthly social media management, including the management of reviews. 
Email marketing. If you have an email database at your disposal, make sure you're taking full advantage of it. Virtual Vision can assist with the development and management of targeted email campaigns to help you increase your brand's online exposure. 
Mobile app development. A number of brands that once only had websites now also have mobile apps – it's become one of the most popular ways for customers and brands to keep connecting. Virtual Vision is ready to assist you with the development of an accessible and engaging mobile app for your business. 
Reporting and analysis. Understanding how your brand is performing online is the only way to keep growing and thriving. Weekly and monthly reports and optimization recommendations is the final service offered by this highly recommended agency. 
If you are looking to partner with an experienced team of experts to give your brand the boost it needs while keeping the user experience at the heart of everything, Virtual Vision might just be the solution you've been searching for – find out more here.