How to Become an Accessibility Consultant in 2023
As the need for web accessibility compliance increases, more businesses are searching for professionals to assist them with the process.
While businesses could handle compliance internally, this usually involves a learning curve and the need to train staff. To speed up the process and avoid wasted time, companies are turning to accessibility consultants, highlighting a growing need for professionals with this specific skill set. 
If you're considering becoming a digital accessibility consultant, this blog will give you all the information you need.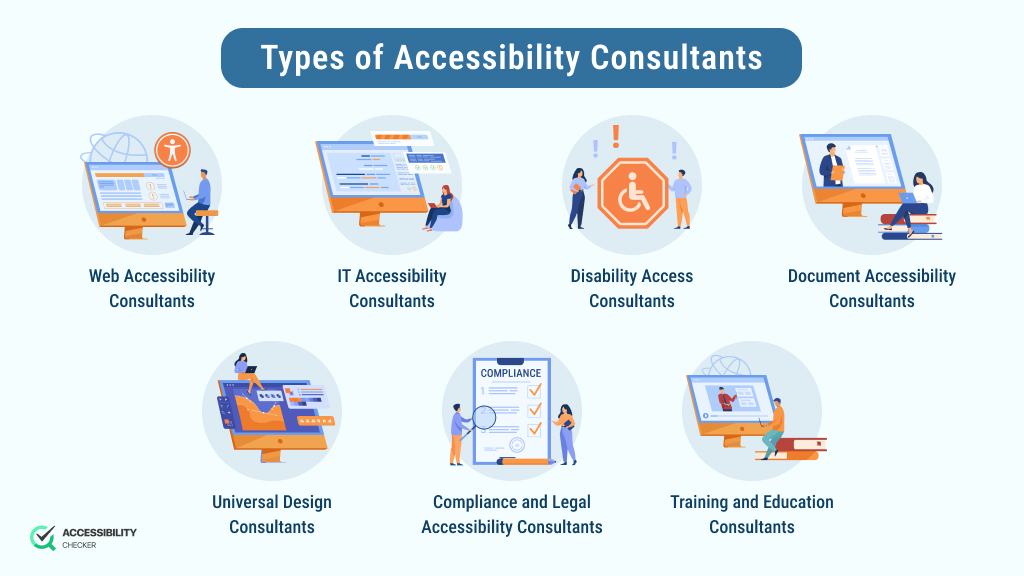 What Is a Website Accessibility Consultant?
An accessibility consultant is an expert on all things related to web accessibility and inclusivity.
In essence, they ensure that everything a business does caters to their target audience, employees as well as the disabled community. 
The average digital accessibility consultant will work with businesses on a contractual basis, offering insights into existing accessibility compliance and consulting on areas that require improvement. 
As a consultant, you would work closely with management and project teams, including designers, developers, content creators, and quality assurance analysts. 
Along with assisting with the overall compliance process, a website accessibility consultant will ensure that all future online activities and initiatives align with the latest accessibility standards. 
In some instances, a consultant may also work with human resources and building management teams to create more inclusive working environments. 
Accessibility Consultant Responsibilities
The day-to-day responsibilities of a digital accessibility consultant will include, but are not limited to:
Accessibility audits.

Using the latest web accessibility tools, a consultant would audit websites and on-site documents to determine whether they meet the necessary guidelines outlined in

WCAG

,

ADA

,

AODA

,

Section 508

, and other acts. An audit will produce a detailed report that will outline what issues need to be addressed.

Remediation.

Some accessibility consultants will take care of the entire remediation process, while others will guide internal teams on how to address problems. This will equip businesses with the tools they need to ensure ongoing compliance. If a consultant runs the remediation process themselves, a manual approach is generally undertaken. 

Guidance and Training.

Because accessibility consultants are always up to date with the latest accessibility standards and guidelines, they are able to provide training and ongoing guidance following the remediation process. 

Accommodations and Hiring.

Over and above the web aspect of accessibility, some consultants will also be hired to assist human resource departments with the creation of roles and facilities for disabled employees. This would entail guiding them on potential role requirements as well as tools and technology that would aid disabled employees. 
Types of Digital Accessibility Consultants
Most accessibility consultants will operate in a particular domain such as ICT, human resources, document accessibility, marketing, facilities, or management. However, it's not uncommon for there to be some overlap. 
In terms of service offerings, an accessibility consultant will generally fall into one of three categories:
Implementation Consultants. This type of digital accessibility consultant will assist with the entire compliance process, from auditing all the way through to remediation. 
Training Consultants. For businesses that would like to learn how to handle the compliance process themselves, an accessibility consultant can be hired to train internal teams. This could range from marketing and content teams to managers who oversee departments that include disabled employees. 
Accommodation Consultants. These consultants are specifically tasked with evaluating and changing up working environments to be more disability-friendly. They can also assist with the implementation of assistive technology and tools. 
Over and above the specific domains and types of accessibility consultants, certain consultants will choose to only work with organizations of a particular size. 
How to Become an Accessibility Consultant
Most of today's accessibility consultants have a bachelor's degree as well as at least two to three years of experience in a digital environment. This is mainly because the digital arena is such a big part of accessibility. 
The typical consultant will usually have a bachelor's degree in information technology, computer science/engineering, information design, or human-computer interaction. 
Next, an accessibility consultant will need to have a thorough understanding of the main disability acts, most of which include web accessibility guidelines. ADA, AODA, Section 508, and EAA are some of the most well-known acts.
For specific web accessibility knowledge, understanding the requirements outlined in the Web Accessibility Content Guidelines (WCAG) is imperative. WCAG is what most of today's legal web accessibility requirements are built on. These guidelines are also regularly updated, so this will be an ongoing learning requirement. 
An understanding of assistive technology and tools is also essential. JAWS, NVDA, Voiceover, accessiBe, UserWay, and Equal Web are just some examples of the tools and technology you can familiarize yourself with to become a skilled accessibility consultant. 
It's highly recommended that you undertake a web accessibility certification if you want access to more job opportunities as a consultant. There are a number of options available, but here are three of the most highly recommended web accessibility certifications to consider. 
Over and above this foundational knowledge, a good digital accessibility consultant will also be a good communicator and have excellent analytical and problem-solving skills. 
Once you're equipped with the necessary knowledge and qualifications, it all comes down to marketing the importance of accessibility as well as the value you can provide. 
Conclusion
As the need for assistance with web accessibility grows, the demand for accessibility consultants increases. 
A career in digital accessibility can be a fulfilling and lucrative one. It gives you the opportunity to do your part in building more inclusive communities and working environments while also helping businesses bypass brand damage and costly lawsuits. 
FAQs
What are the roles and responsibilities of an accessibility consultant?
Accessibility consultants undertake a number of responsibilities that can includ
Assessing working environments and potential barriers.

Developing plans to upgrade facilities to cater to disabled employees and customers.

Auditing websites, apps, and online platforms in line with web accessibility requirements.

Remediating websites, apps, and documents to comply with the necessary digital accessibility requirements and guidelines. 

Training staff and management teams on web accessibility compliance and the requirements for creating an inclusive website, working environment, and business.