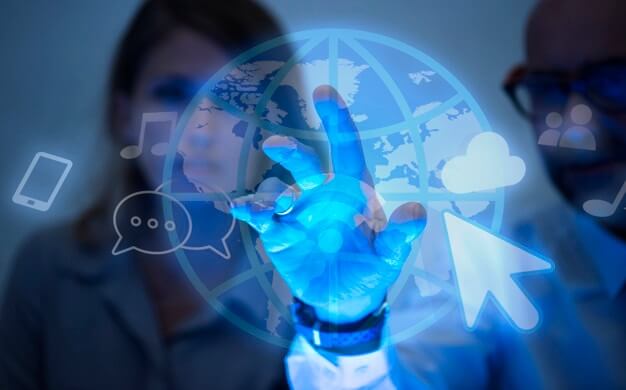 Danny Trichter
ADA compliance
Understanding ADA Compliance For Websites: Why Is It Important Today?
In a world where everything is digital, online businesses and e-commerce massively influence our way of life. 
In 2019, the e-commerce market recorded a whopping $12.2 trillion worth – and it's only going in one direction – up. With countless opportunities, e-commerce sales are predicted to grow double digits by 2024.
And all these new websites have one thing in common – They all have to be ADA compliant. An ADA-compliant website provides users with disabilities with more inclusivity. Not only that, but brands also benefit from ADA compliance because it helps with brand reputation and market reach.
Similar to sustainability, customers are testing and expecting brands to be accessible and ADA compliant. 
Given this, ADA compliance is an important issue that requires attention. If you want to learn more about ADA-compliant website guidelines, check our guide.
In today's article, we'll focus on the importance of ADA-compliant websites and why it's important today more than ever. We'll also include some tips to make your website ADA compliant.
That said, keep reading to know more about ADA compliance for websites!
Understanding ADA Compliance for websites
The Americans with Disabilities Act was signed in 1990 with the aim of protecting the rights of people living with disabilities. Title 3 of the act mandates that public accommodations be accessible to everyone, regardless of their physical or mental well-being.
To date, websites aren't specifically named in the ADA. However, courts have ruled overwhelmingly in favor of differently-abled people in the last few years, setting precedents.  But what exactly is ADA compliance for websites?
An ADA-compliant website accommodates the needs of people who are differently-abled and cannot access your website without certain functions.  These changes include various website features like using alternative text and making accessible forms.
Although there are no clear rules about ADA compliance for websites, various businesses follow the Web Content Accessibility Guidelines (WCAG). Specifically, an ADA-compliant website conforms to the WCAG 2.1 AA standards.
While you're not required to follow these guidelines, they help you build a website that's accessible for users with disabilities.
Why ADA Compliance for Websites Is urgent now more than ever
With digital accessibility lawsuits on the rise, it's more important than ever to ensure website accessibility for all. As technology becomes more sophisticated, several people rely on digital services for everyday activities.
Remote work, shopping, education, and banking are just a few of the benefits of this convenient way to live. Thus, we must provide these services to those with disabilities.
So, why exactly is ADA compliance for websites an important issue in today's era? Some of the important reasons are as follows:
1. The COVID-19 pandemic changed the way we live.
COVID-19 has created a 'new normal' for various people. With most of us spending more time at home, websites provide us access to the outside world.
Now more than ever, we've become more dependent on websites for essentials, ranging from shopping, entertainment, and education. In this scenario, we cannot leave the need of differently-abled individuals behind.
For instance, several companies have developed accessible online grocery shopping portals for the differently-abled. Zoom, a popular video conferencing platform, also has various accessibility features.
2. Online convenience should be for everyone, including people with disabilities.
With the dawn of the digital age, our lifestyle and never-ending hustle make us rely on online web surfing. Thus, ADA compliance for websites creates an online experience accessible for all individuals, regardless of disability.
Maintaining an ADA-compliant website means people can interact with your website and online information conveniently.
Think of it this way: a building that's not designed for someone with a wheelchair can prevent them from moving around the building.
In the same way, a non-compliant website prevents differently-abled users from accessing online information.
3. People have become more educated about their rights and voicing their opinions against discrimination of any sort.
Over the years, people have become increasingly aware of their rights. Thus, it's no surprise ADA non-compliance lawsuits have increased from under 2,000 in 2018 to over 3,500 in 2020.
With that, it's a no-brainer that ADA compliance for websites protects you from spending tons of money on lawsuits.
Also, 61 million adults in the United States live with a disability. Thus, you are effectively shutting out these people with ADA non-compliance.
Lastly, maintaining an ADA-compliant website is your social responsibility. While there are several other reasons to provide full accessibility, it's simply the ethical thing to do.
That said, you must make your websites accessible for all. This way, you can build a brand of people's choice and establish a conscious business.
If you are interested to know more about digital accessibility compliance, this guide will help you. 
Possible Consequences of Not Being ADA Compliant
You get various consequences for not maintaining an ADA-compliant website. Thus, ADA compliance for websites must be a priority, especially in this digitally-driven world.
If you have a website, here are some consequences you can face for ADA non-compliance.
1. You're at risk for ADA lawsuits.
The ADA is a civil rights law, meaning any business open to the public must make accommodations for those with disabilities. Thus, you can avoid serious legal consequences by complying with these regulations. 
Simply put, you can face penalties or lawsuits if you don't adhere to the compliance guidelines. And let's face it: lawsuits aren't cheap.
2. You lose potential customers.
As mentioned earlier, 61 million US adults live with a disability.
With this, making your website ADA compliant is an important part of marketing your business. If it's not an ADA-compliant website, you're turning away potential customers. 
And while lawsuits are scary, various differently-abled people won't sue if they find that their equipment won't work with your website. Instead, they'll decide not to do business with you.
That being said, you must meet ADA compliance for websites if you don't want your customers to turn to your competitors.
How to Make Your Website ADA Compliant
With the rise of technology, several companies have developed resources to make websites accessible for all users.
There are various ways to build and maintain an ADA-compliant website, including the use of accessibility tools. Here are some of them:
AudioEye uses advanced automation technology and manual remediation, which work wonders to make websites accessible. The platform also complies with digital guidelines, including the WCAG.
accessiBe provides automated solutions for ADA compliance for websites. It uses an interface and an AI-powered process to make websites ADA compliant.
While these tools make ADA compliance for websites easier, automated and manual solutions alone don't work. What works is hybrid solutions that combine both automated technologies and the human touch.
Another tool you can use is UserWay, which offers automated solutions for web accessibility. They offer various accessibility features like a contrast checker and video remediation.
Website ADA Compliance Checklist
There are a lot of ways that people with disabilities can have a hard time accessing the internet. By meeting these standards, you'll give them convenience and full access to the internet.
Thus, it's vital to comply with these standards to improve your website's accessibility for people with disabilities. Here are the things you have to remember so you can address ADA compliance for websites more effectively:
Be conscious about the special needs (audio, visual, cognitive, and physical).
You can address special needs by making the necessary changes to your websites. For instance, you can transcribe audio and video content to help your deaf users.
Alternative text also helps users with visual impairment. You can also learn more about ADA compliance for websites by reading our definitive guide.
Focus on customer service.
Navigation difficulties arise when users need to navigate websites differently, like using a keyboard. For example, if a customer struggles to navigate the site, your site should automatically offer help. 
Focus on on-site appearance, usability, presentation, and user control.
How you build your website and how it looks are crucial elements of web accessibility. For instance, the website's buttons should be organized and easily differentiated from each other. 
Also, it shouldn't contain distracting elements like pop-ups, as these hinder a good user experience.
Wrapping Up!
Making your site accessible is the best way to provide equal access to all web users. It also provides you benefits and protects you from serious legal risks.
And while ADA compliance for websites can get technical, understanding these standards can help you build a conscious business. 
With the advent of technology and businesses committed to making accessibility a priority, it's about time you consider ADA compliance for your website.
If you're not sure where to begin, carry out a quick audit for your website's ADA compliance here.
Read more guides and resources here: