ADA
How to make any website ADA compliant in 3 easy steps
Unlike other compliance and regulatory issues, Making your website accessible and ADA compliant is probably the one you'll relate to the most. 
Just imagine – When was the last time you used social media? How about ordering something on Amazon? Or ordering a cab on Uber? The internet is essential to our lives as electricity and energy are. It's everywhere and nowhere. 
Now, imagine you don't have access to most websites since you are blind, visually impaired, physically impaired or whichever other reason. 
You get the point, being disabled isn't fun. You're in constant battle with the world. But today we are going to take a small step to change the world for the better.
Let's dive in.
Step 1 - Audit your website
The first interaction with web accessibility can be intimidating. You might have heard about the WCAG's guidelines, that they are a gazillion pages long. 
Before we jump in, first thing is first – You need to understand the state of  your current website. 
You can use our free evaluation tool.  
Click here and a pop up will appear.
Enter the URL and choose "United States" to check for the ADA.
Step 2 - Review the report
Step 2 is to simply understand the status of your website.
Your website will get a score:

And then you can scroll down and review the issues the tool found.
Unlike other free evaluation tools in the market, our accessibility audit tool is the only tool that bridges the gap between the technical aspect of the report and the different disabilities.
This allows website operators to comprehend the full picture of their website, and in turn accessibility is seen as a friend instead of a foe. 
Let me give you a quick example:
Many websites have a repeating problem of 'color contrast'. If you will use another accessibility audit tool, your report will look like this: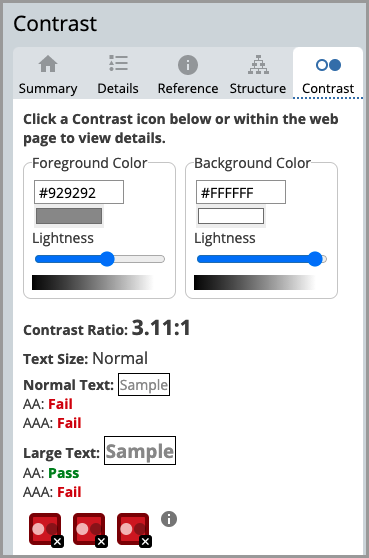 Since making your website accessible touches so many aspects (design, code, content, etc.), not many people can have the full 360 view and actually even understand the problem, let alone fix it.
In contrast, the report we produce is aimed at helping you understand the problem and then how to fix it, explained to beginners.
If we would audit a website and the 'color contrast' issue would come up, here's the report our evaluation tool will produce:
Followed by a brief explanation to whom the problem relates to:
And finally we suggest how to solve the problem:
Step 3 - Fix accessibility issues and make your website ADA compliant
After you've reviewd the report and understood the problems of your website, it's time to fix them :).
You can choose to fix the problems using your own designers, programmers or content writers. However, instead of fixing each accessibility issue by yourself, you can use automated solutions to make changes quickly and efficiently.
The problem with accessibility is that it's an ongoing maintenance, and manual methods simply cost too much.
Manual methods are now generally considered outdated, and automated and semi-automated solutions have impacted how easily companies can update their websites.
Companies like acessiBe and audioeye have completely transformed the landscape of automated solutions for digital accessibility.
We highly recommend reading our article about '2021's best automated website accessibility solutions'.