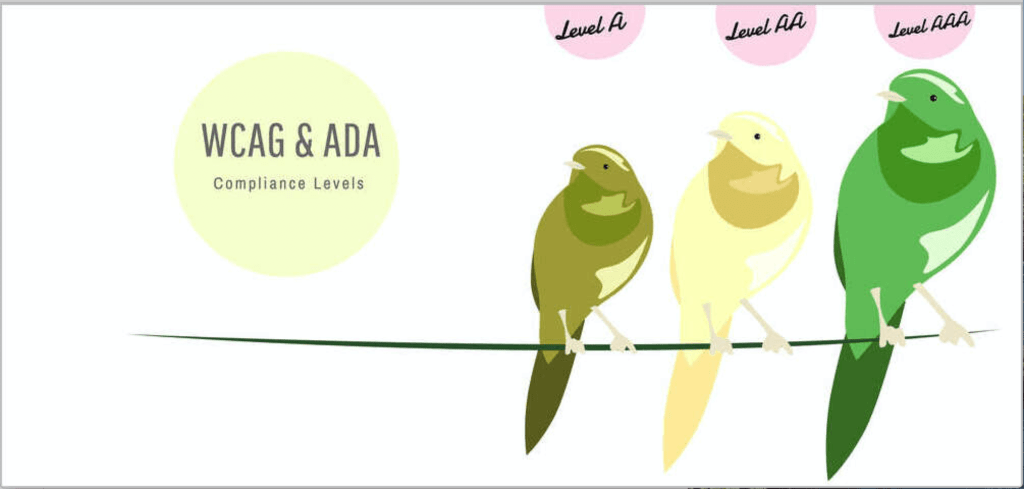 10 September 2021
5 minutes
ADA
ADA Compliance Levels
The terms "WCAG", "ADA Compliance for websites" and "digital accessibility" are thrown around articles and blog posts without really going into detail. Usually, additional terms like "Level AA" are commingled.
So what is ADA compliance level AA or WCAG level AA? And if you're a website owner, programmer or web agency – How do you  make sure your website is compliant?
A Brief History of Digital Accessibility
We have come a long way in creating a world in which people with disabilities can enjoy and function within with ease.  Today we see individuals and businesses making an effort to incorporate intentional design, thoughtful considerations, and purposeful actions to allow website creators to successfully serve an audience with a diverse range of needs. 
So how did the world arrive at the doorstep of digital accessibility? To understand that, we need to go back to the 1970s when the United States passed the Rehabilitation Act of 1973. In summary, this important act forbade any federal agencies and their contractors from discriminating against individuals through employment, financial assistance because of their disability, and importantly, technology.
Twenty years later, the United States passes the Americans with Disabilities Act (ADA), which concentrates on accessibility in public spaces. While you might immediately think of a classroom setting or a bathroom stall, the term public space includes the world wide web. It was not until 1999 that the WCAG first tackled the public space issue in a digital context by providing its first set of recommendations. 
Wait, What is the WCAG?
WCAG, or the Web Content Accessibility Guidelines, are a series of guidelines that provide information about web accessibility. These guidelines, developed by the Web Accessibility Initiative (WAI) of the World Wide Web Consortium (W3C), help give site owners clear instructions and information toward making their website meet compliance standards.
The WCAG is not all-encompassing concerning issues that users with disabilities face, but it generally covers most and is accepted internationally as a recognized standard.
Some countries have official legislation regarding digital accessibility that is derived from the WCAG guidelines. In the United States, under the American with Disabilities Act and Section 508 you need to ensure your website follows the WCAG guidelines, otherwise you are in risk of digital accessibility related lawsuits.
Levels of Compliance
WCAG can easily be broken down and understood by four principles. These principles are:
Perceivable: Your website must be perceivable by users using one or more senses.

Operable: Your website must be navigable by users.

Compelling: Your website content must be understandable, readable, and easy to digest by visitors

Robust: You need to ensure that your website content works across all browsers.
The WCAG has thirteen guidelines that are independent from the four core principles. They have a rating between A, AA and AAA. These guidelines range from A (the lowest), to AA, and then on up to AAA (the highest). 
Your site must be at least AA compliance. This means that you must comply with all guidelines for both A and AA levels.
To reach level A, there are 25 criteria your website must reach 

In addition to the 25 criteria of level A, to reach level AA, your website will need to meet an additional 13 more criteria. 

Level AAA is the top of the top, with 23 more criteria your website will need to meet.
How to Achieve WCAG and ADA Compliance Level AA
First thing is first, audit your website for free for accessibility issues. Our scanner will not only find the issues, it will also give simple explanations on the problems and multiple ways on how to solve it. 
You can also check out our article about the best automated solutions for accessibility in 2021.