10 Must-Have Web Accessibility Tools in 2023
Millions of people around the world are living with some form of disability and with countless businesses relying on the web to attract and retain customers, digital accessibility has become more important than ever.
If you're new to the world of online accessibility, it can feel quite overwhelming at first. 
Fortunately, there are a number of web accessibility tools available today that make it simple to adhere to the latest guidelines and standards. 
Before we get into the tools you should consider in 2023, let's cover some basics. 
What are Web Accessibility Tools?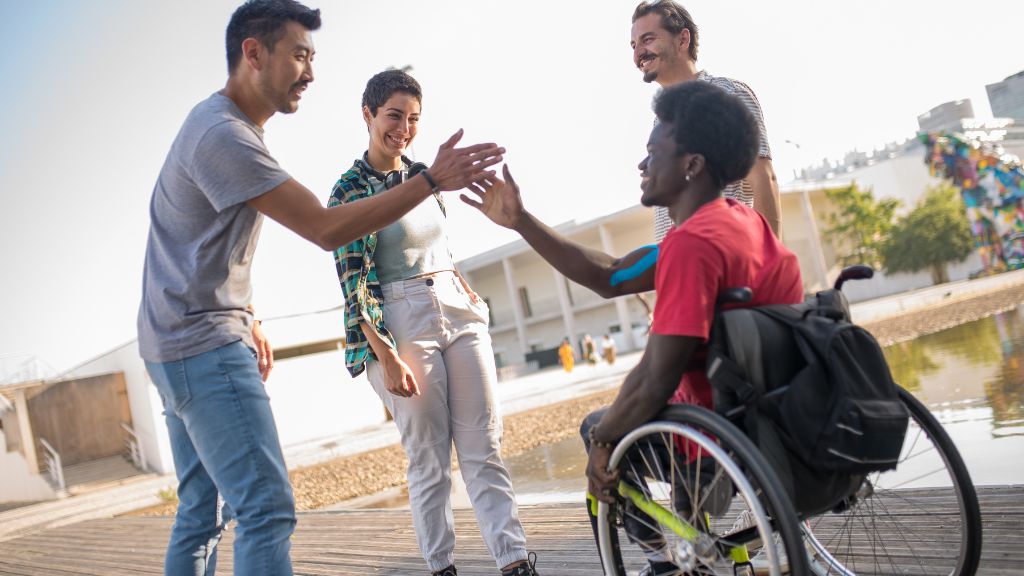 Tools for accessibility testing are built according to the Web Content Accessibility Guidelines, also known as WCAG. 
WCAG is also what acts such as the Americans with Disabilities Act (ADA) and the Accessibility for Ontarians with Disabilities Act (AODA) are based on. 
These programs and online services can easily tell you whether your website is currently catering to users with disabilities and how you can go about correcting any accessibility issues. You will also have the option to choose between automated accessibility testing tools and manual testing services, which are performed by a 3rd-party team.
Automated accessibility testing tools are ideal if you want to save time and start making changes right away. Manual testing solutions might take more time, but they're usually more thorough and in-depth because they don't rely on technology alone. However, whichever option you choose, you're going to need the help of a developer to implement any changes, unless you pay for a full service that includes implementation. 
The reason why you should be picky about the tools you use is that the best accessibility solutions are always up to date with the latest WCAG guidelines, which are modified every other year.
Why You Need These Tools
There are several reasons why it makes sense to use web accessibility tools, including:
Access to more customers
When your website isn't accessible, you are putting a barrier between your business and potential customers. Making your site accessible to as many people as possible automatically gives you access to more customers and more revenue.
It's the law
While every country's disability act is slightly different, many leading countries are clamping down on businesses that don't comply with the necessary digital accessibility guidelines. Failing to comply can result in costly fines and expensive lawsuits.
Brand image enhancement
Another reason to prioritize web accessibility is that it enhances your brand's image. People want to do business with brands that are inclusive and dedicated to doing good in the world. 
What You Should Test For
Once you know which web accessibility tools you want to use, you can begin testing. Here are some of the essential categories to test in:
Hearing
Does your website include videos and audio? If so, it's critical to consider how a hearing-impaired user might use your site. To ensure they can access all media, you will need to add captions to your videos and transcripts to any audio files. 
Mobility
Next, you need to cater to users with mobility challenges. Not every user will navigate your site using a mouse, which means your website needs to be keyboard compatible. Make sure you check your command orders and that you know which controls are currently active. 
Vision
Then there are visually impaired users – many of them will be using your site with the help of assistive technology such as screen readers. To make this a pleasant and engaging experience, your website should have a simple navigation and content structure and any media should have captions and alternative text. Even the fonts you use and the color contrast on your site matters as some users may only have partial visual impairments. 
Cognition
Lastly, there are users with cognitive disabilities. Assisting these users entails making sure everything on your site is easy to identify and understand. Forms and menus are good examples of this. 
10 Best Accessibility Testing Tools in 2023
There will always be hundreds of web accessibility tools to choose from, but we've put together a list of some of the best tools for testing in 2023.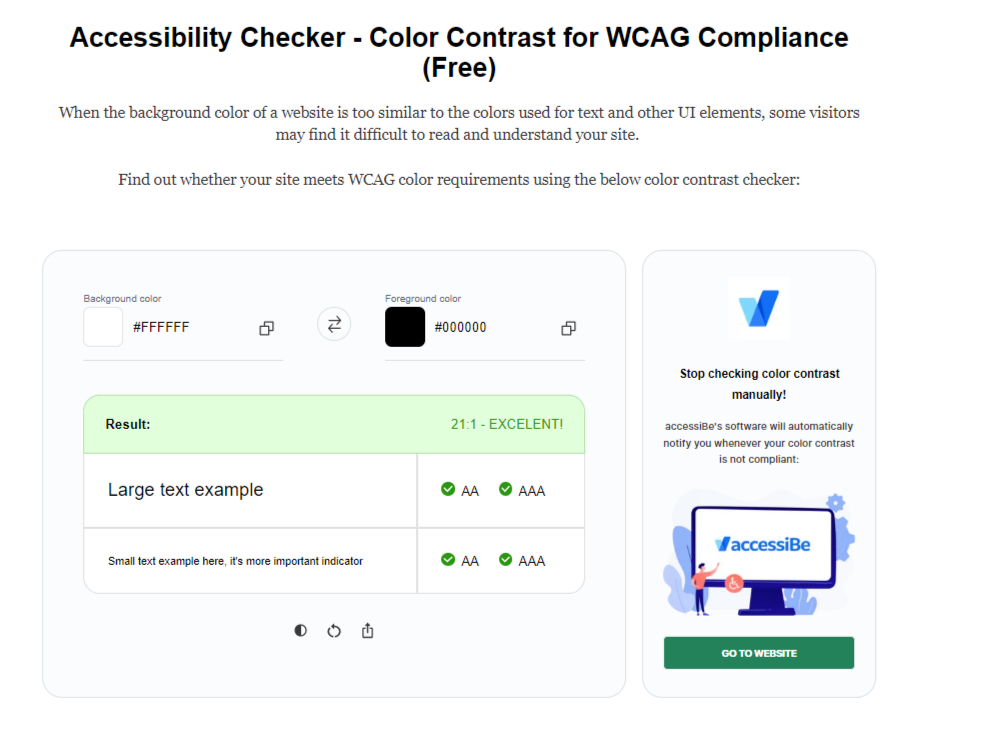 When it's difficult to distinguish between your content and the background of your site, visitors with visual disabilities are unable to use your site. This is why color contrast ratios are part of WCAG guidelines and it's what this tool assists with.
This color contrast checker tests the colors on your site against the latest version of WCAG. Should your site not meet the necessary requirements, recommendations will be provided that will ensure you can offer users the best experience possible. 
Developed by WebAIM, WAVE is an automated accessibility testing tool that helps you quickly and easily identify structural elements that might cause confusion, text sizing issues, and contrast errors. 
All that's required to produce an accessibility report is for you to enter your website's URL. An extension is also available on both Chrome and Firefox for immediate notifications of accessibility errors on your site.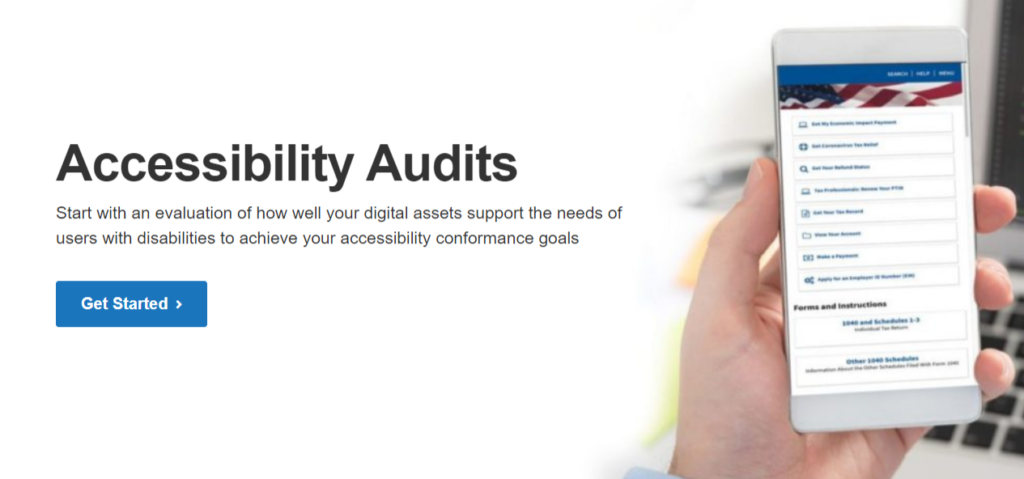 This automated tool is perfect if you want a quick overview of how your website fairs against the latest web accessibility standards – it's a great starting point for those who are new to accessibility and want to see what changes lie ahead. 
When you sign up for a free Tier Plan with TPGi, you get access to free monthly scans of up to 5 pages per domain, an admin console, an integrated knowledge base, and accessibility monitoring. Only one user can be allocated to a free plan though.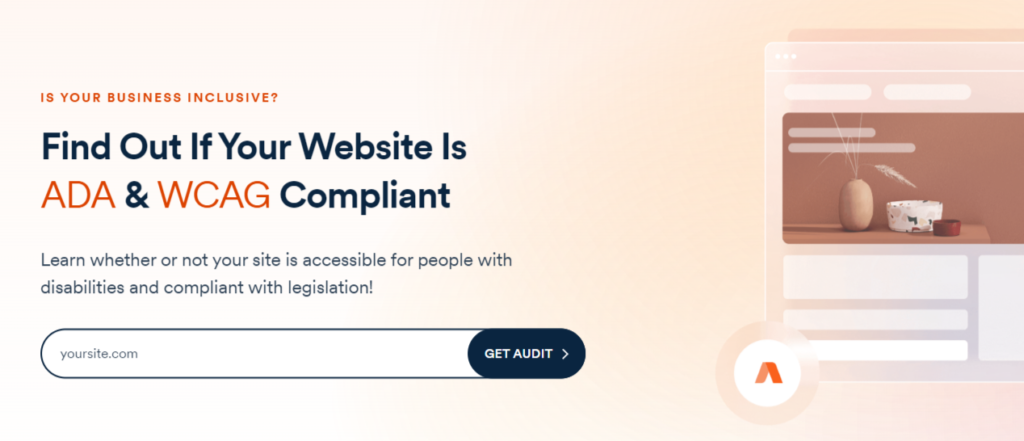 Created by accessiBe, accessScan is a market leader when it comes to web accessibility. Users have the option to scan and audit a website for free, but you will need to enter some basic details to download the full report.
There is also the option to sign up for a free trial with accessScan to find out just how in-depth their offering is before you agree to any paid services. If you run a larger website with a lot of traffic, investing in a solution like this is well worth it.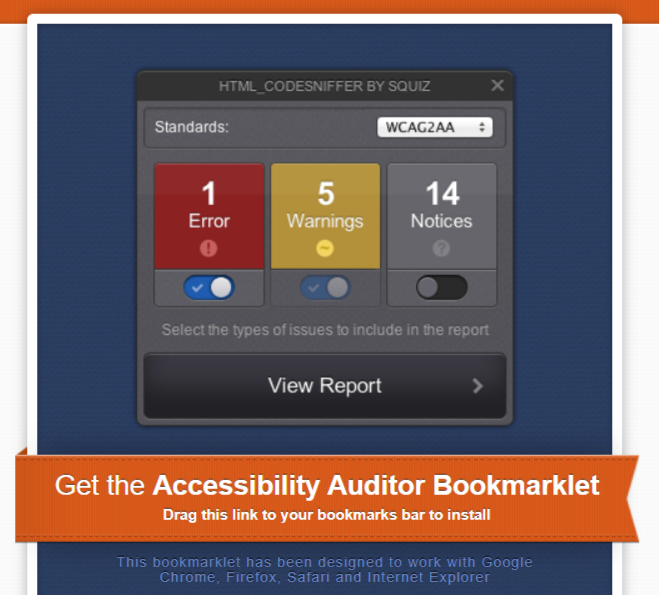 This is a great option for developers who want to make sure their HTML source code is ticking all the right WCAG boxes before a site or application goes live. This particular tool is compliant with WCAG 2.1 as well as Section 508.
Not only can it detect errors based on its predefined rules, but you can also add custom rules as an extra measure. All that's required is for you to paste your code into a text box and the tool will do the rest.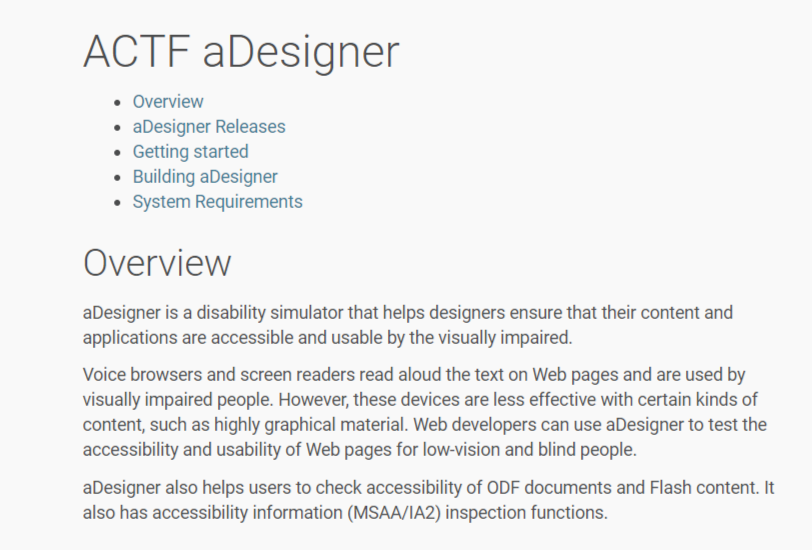 Developed by Eclipse Foundation, this accessibility tool is a very capable disability simulator. It was designed to evaluate how well the content on your website works with assistive technology such as screen readers and voice browsers. 
To use this tool, you will need to download and unpack a zip file and run aDesigner.exe in the aDesigner folder. As you can imagine, this tool is best for businesses that already work with developers who are familiar with these types of processes. 

This is another tool that comes highly recommended for businesses that would prefer both an automated and manual testing approach to cover all their bases. Access Alchemy only offers paid services, but this is because of the advanced nature of what they do.
Along with identifying accessibility issues, this team goes one step further by applying them to your site, taking away the need to involve developers at a deeper level. Access Alchemy complies with all major disabilities acts on a global scale, making this an ideal solution for larger organizations. 

In just one click, SortSite can help you test your website for accessibility issues. This desktop application is compatible with both Windows and Mac, evaluating your site for basic accessibility concerns as well as potential SEO problems. 
SortSite is based on 110 checkpoints that comply with WCAG and Section 508 guidelines. And a one-time purchase will provide you with lifetime access to this easy-to-use accessibility solution. Even though the tool has a basic look and feel, it gets the job done.

If you enjoy a more visual representation of data, Tanaguru is the tool for you. Once you scan your website, the results page will contain a number of charts and visual evaluations of your accessibility compliance. You will also receive a summary of the elements that don't comply with the necessary standards, so you'll know exactly what to focus on.
You can opt to try the Tanafuru engine for free to decide whether it's the right fit for you or you can download it and start using it right away.

The final recommendation on this list is Siteimprove, which helps you conform to all levels of WCAG (A, AA & AAA). The platform offers a series of tools that help you address various accessibility requirements and standards. Once you audit your site, you will receive a list of findings according to priority, which is ideal if you have limited time and resources and want to focus on the most important tasks first. 
While you can scan your website for free, this will only give you a basic idea of the faults you need to address. To get more information, you can request a free, in-depth report directly from Siteimprove. 
Conclusion
When we look at the sheer number of web accessibility tools that are available today as well as the increase in lawsuits being filed on a global scale, it becomes clear that digital accessibility is no longer a nice-to-have feature.
Luckily, you now have a solid place to start on this journey, ensuring your business and your customers reap the benefits of a more accessible website. 
What Do Web Accessibility Tools Evaluate?
While every tool is different, the top web accessibility tools take a deep look at the code of your site as well as the elements you've added to it, ensuring everything meets the necessary accessibility standards. Some of the elements a typical tool would evaluate include color contrast, fonts, site navigation, video captions, alternative text, and site structure.