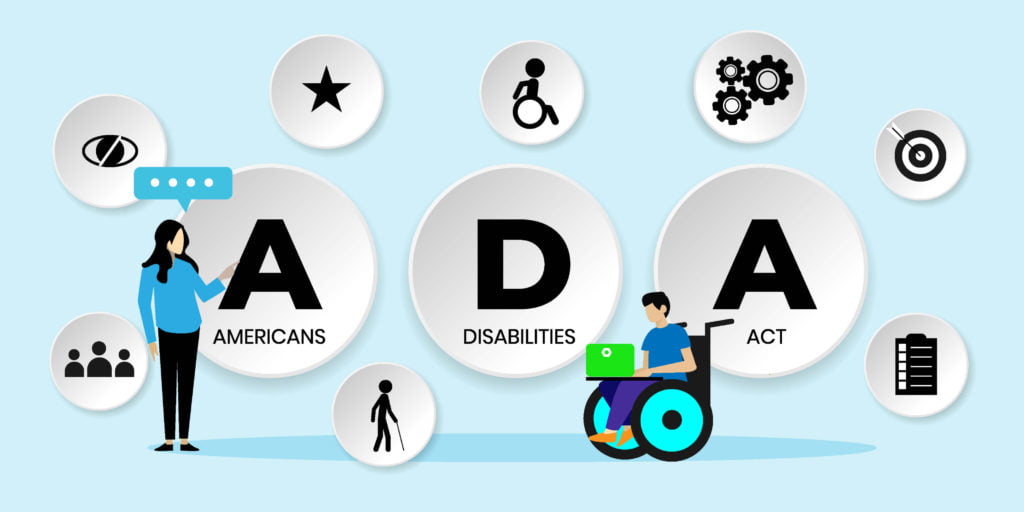 14 September 2021
5 minutes
ADA
Received a Website Accessibility Demand Letter? Here Are 7 Immediate Steps to Take
With more and more people using the internet on a daily basis for essential services, brighter light is being shed on ensuring people with disabilities have equal access to websites and mobile apps. Along with this, attention has come a wave of demand letters and lawsuits directed at websites that are not answering the needs of people with disabilities.
At this point, you might be wondering, what exactly is the Americans with Disabilities Act (ADA) and how is related to website accessibility demand letters? The ADA is a piece of legislation, signed into law in 1990, that ensures people with disabilities can enjoy equal opportunities and rights. The ADA is aimed at both physical locations, and lately that includes online spaces as well. That's where your business's level of website accessibility comes into play. As major companies like Dominio's and Winn Dixie become subject to high-profile lawsuits targeting their websites, the more and more attention the ADA's regulations regarding websites is getting.
Who is Sending Demand Letters?
If your business receives a demand letter, you need to be aware of the steps you should take in order to protect your business, but you should also consider the bigger picture. Although the United States has a reputation for frivolous lawsuits, the people sending website accessibility demand letters tend to be more serious. 
The ADA does not allow for monetary damages to be assessed against your business in lawsuits brought by individuals. So what's really at stake? Fair and equal access to service, products, or information on your website. You can rest assured that the author of a demand letter is committed, passionate, and motivated. 
However, those are not the only people pursuing website accessibility lawsuits. Many ambulance-chasing lawyers have found a niche they can make a lot of money out of suing website owners and easily winning the case as well. 
Steps to Take after You Receive a Demand Letter
1. Take the letter seriously
The person, organization, or lawyer behind a demand letter is seeking to break down digital barriers in search of equal and fair access within the digital space. Othertimes, lawyers know it is an easy win and a great opportunity to generate revenue. If your company ignores a demand letter, it is likely that the letter will turn into a lawsuit, which means more resources are spent toward lawyers, court, and fees. In short, website accessibility needs to be a priority for any business operating in the online space today.
2. Don't panic
If you are unfamiliar with website accessibility and you receive a demand letter- running to the internet might panic you further. It can be difficult to understand how to navigate the WCAG, ADA, Section 508, and other compliance standards. Take a deep breath; there are great automated solutions out there for your business.
3. Consult a lawyer and answer the letter
As you would with any legal matter regarding your business, it is best to seek counsel. Digital accessibility litigation is a relatively new concept in the legal world, and the waters can be a little murky. A qualified legal expert can help you draft a response to the letter and ensure communication with the sender remains professional, accurate, and helpful. 
4. Understand What Compliance Standards Apply to You
Most likely, the compliance standards your business is obligated to meet will depend on the geographic location of your business. While the Web Content Accessibility Guidelines (WCAG) provides a base of compliance standards for legislation around the world, you need to know what specifically applies to your business. Canada, Europe, and the United States have all developed legislation based on the WCAG.
5. Make a compliance plan
After you discuss an approach with your legal team, the next step is usually to identify and understand violations on your website and then assemble an organized and prioritized plan for solving them. Some companies might hire a technical expert to identify compliance issues, while others may seek out automated solutions that can get your business compliance-ready in a matter of days. Whether you decide to go with a manual or automated solution, start with a free website audit to understand where your business stands.
6. Avoid drastic measures to your website
If your website audit reveals many holes in your website accessibility offerings, don't panic. You have probably invested a lot of time and money into your website and mobile app and maybe worried about the cost and disruption of producing a site that lives up to compliance standards. The good news? Most automated solutions will not require any coding changes or major website overhaul work. 
7. Understand This is a Journey
Your business's website compliance journey is not over the moment you achieve compliance. With every new image, map, audio, or piece of content, you update to your website; you will need to provide accessibility features for the new additions. These features will include content scaling, text magnifiers, color adjustments, and more. Just as the internet is an ever-changing fluid thing, so too is digital accessibility. Website compliance is ongoing and should be kept in mind with every change you make to your website.
The Cost of Non-Compliance
While the plaintiff may not benefit monetarily from an ADA lawsuit, your business may still end up owing a lot of money. The cost of your employees' time to tackle the issue needs to be considered alongside the fees for lawyers and more. It has been estimated that even the most simple and straightforward of lawsuits will end up costing the defendant up to $350,000.
Why You Shouldn't Wait Until You Get a Demand Letter
Certainly, many businesses will ignore website accessibility until the demand letter shows up in the mail. Like most problems in life, the best course of action is likely not to ignore something until it becomes a major problem. The benefits of tackling website accessibility before you receive legal pressure to do so are numerous and include: 
A more positive brand reputation for your business 

A wider audience to offer your unique products and services

Improving your website's general usability for a variety of users 

Better search engine optimization (SEO)
Whether you have already received a website accessibility demand letter, or you want to take preventative measures toward preventing one, it is best to start with a website audit. An audit will illuminate any vulnerabilities that exist on your website and allow you to understand where you stand. Get started with a free audit now.
Today it is easier than ever to reach accessibility today with automated solutions. Thanks to developments in technology, new accessibility solutions have transformed the accessibility journey by using AI technology to replace an out-dated and manual process. Get to know the solutions available to you, and take important, resource-saving steps toward compliance today.