13 Fun and Essential Wheelchair Accessories 
Wheelchairs are an empowering tool that allows people with mobility challenges to live their lives to the fullest. Even more so now that there's a selection of fun and functional wheelchair accessories available to everyone. 
Modern wheelchair accessories add style, comfort, and a personal touch to an essential accessibility device. 
If you're looking for new ways to personalize a tool you use daily, this blog's for you.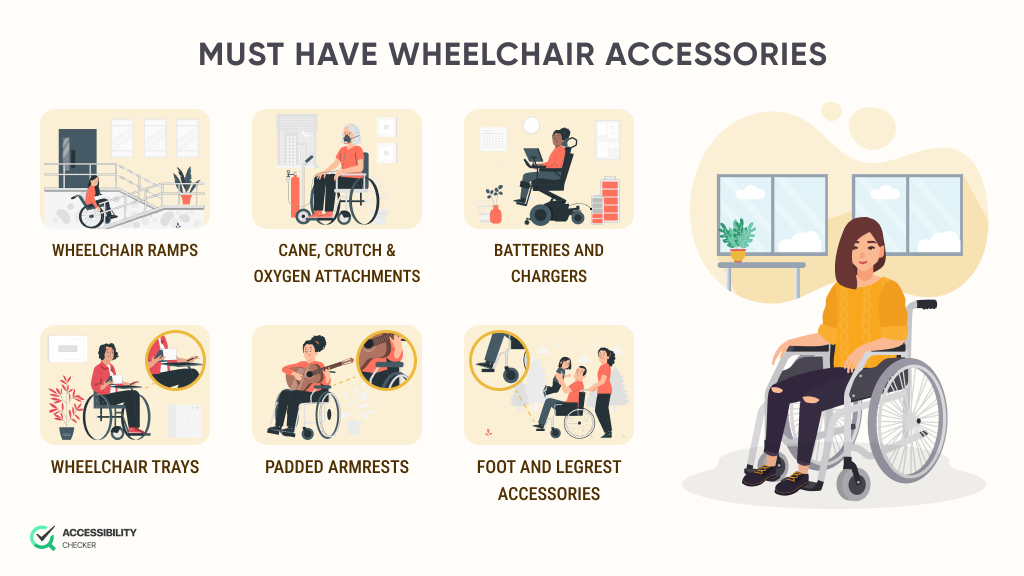 6 Must-Have Wheelchair Accessories
Some of the best wheelchair accessories are functional, providing you with more comfort and convenience throughout your day. Here are our top essential wheelchair accessory picks:
1. Wheelchair Ramps
Make getting around simpler with a wheelchair ramp. Handicap ramps make it easier to navigate inaccessible terrains such as curbs and stairs. And, because many of them are foldable and easily transportable, you can use them wherever you need to. Wheelchair ramps differ in terms of rise, length, width, and weight capacity, so make sure you evaluate your specific needs before you select one. 
2. Cane, Crutch & Oxygen Attachments
There's no need to separately transport the additional extras you need to for your day. Cane, crutch, and oxygen attachments are readily available, ensuring what you need is right there with you wherever you go. These essential wheelchair accessories easily attach to your backrest, so they'll never get in your way.  
3. Batteries and Chargers
Prefer to use an electric wheelchair? It's best to always have a backup on hand should a battery run flat or malfunction. Backup batteries and chargers are designed to be light and compact, which means you can easily carry them around with you in a separate bag or one that's attached to your wheelchair. Just make sure that your backup battery's voltage meets your requirements. 
4. Wheelchair Trays
Attachable trays are a game changer! They remove the struggle of having to pull up to a table or desk to work or eat. Trays are one of the best wheelchair accessories to have if you're always on the go or simply want to enjoy more convenience throughout your day. They're constructed with durable materials and are easily attached. Other options include lightweight lap trays and swiveling half trays. 
5. Padded Armrests
Not all wheelchairs can provide you with the support and functionality you need, which is where padded armrest accessories come in. Padded wheelchair armrests are easy to attach and are cushioned to add more comfort to your chair's existing armrests. Many of today's armrests can also be tailored to your specific needs if required. 
6. Foot and Legrest Accessories
This is another must-have wheelchair accessory if comfort is something you value. Foot and leg rest accessories are padded and can be added to or removed from your wheelchair with ease, giving you much-needed flexibility during your day. Calf protectors and footrest elevation kits are also available for added convenience. 
7 Cool Wheelchair Accessories
Wheelchair accessories can also be fun! They allow you to add a few personalized touches to your mobility device that speak to your personality. 
1. Wheelchair Bags
Wheelchair bags are handy if you're traveling with smaller items such as a mobile phone, house keys or medication, but there's no reason they need to be boring. Wheelchair bags can be customized with patterns and colors and attached to your backrest for easy access. You can even choose one with extra larger internal compartments should you want to carry additional clothing or anything else that won't fit into the generic compartments. 
2. Light-Up Casters
Give your wheel spins an upgrade by illuminating them with colorful LED lights. Light-up casters are a fun and entertaining addition, which is why they're fast becoming one of the most popular wheelchair accessories, even among disabled celebrities. What's more, by lighting up your casters, you're adding an extra layer of security to your wheelchair. 
3. Gloves
Gloves might be highly functional, but they can be a cool wheelchair accessory too. Turn your average fingerless gloves into an accessory that's all your own by choosing from a wide selection of colors and styles. This way, your gloves are personalized but still provide you with much-needed protection from calluses and blisters. 
4. Wheel Covers
The world of wheelchair wheel covers has taken off, with a number of designers and artists providing the disabled community with beautiful, eye-catching designs. As Izzy Wheels says, 'If you can't stand up, stand out!' The options are endless, and many creators are open to developing custom designs too. Wheelchair wheel covers are available in different sizes, so you can easily find one that's right for you. 
5. Custom Cushions
Custom wheelchair cushions combine comfort and creativity. These cool wheelchair accessories are one of the easiest ways to showcase your unique style while still enjoying the support your cushion provides. You can either design your own cushion or choose from a variety of custom covers. In fact, why not change up your cushion cover every other day to complement your outfit? 
6. Cup Holder
Cup holders are a useful accessory that can add to the quality of your life. Not only are they easy to attach to your wheelchair, but they can be customized too. Choose between plastic and metal cup holders in a range of sizes and colors. Metal is generally the preferred choice because they last longer and can accommodate larger bottles and cups. 
7. Spoke Reflectors
Whether light-up casters are not for you or you would like to add an extra layer of fun to them, there's always the option of spoke reflectors. This is an inexpensive way to enhance your visibility at night. In fact, they provide better visibility than light-up casters. Spoke reflectors can be as simple or colorful as you like and can easily be removed whenever you need to. 
Conclusion
Wheelchair accessories have the power to turn an everyday disability device into a fun and functional tool. It is possible to pair comfort and convenience with your own personal style every day. The only thing left to do is decide which accessories to add first.