Best Examples of ADA Compliant Websites in 2023
Not only does web accessibility compliance protect you against litigation, but it helps you promote inclusivity too. 
Even though attaining website accessibility can be a little overwhelming and daunting at first, it's not an impossible task, especially when you have tools like accessiBe to assist you. 
In today's article, we'll show you some of the best examples of ADA-compliant websites and what they have in common.
Top Tools Used By ADA-Compliant Websites
If you want to join this list of top ADA-compliant websites, here are a few of the tools that come highly recommended.
Existing Customers

Technology
Fully automated web accessibility solution
Fully automated web accessibility solution
Automated

Compliant in Countries

Compliance
WCAG, ADA, Section 508, AODA
WCAG, ADA, Section 508, AODA
WCAG, ADA, Section 508, AODA

Prices

Starts at

$49 per month

Starts at

$49 per month

Starts at

Flexible

Partner Program (for Web Agencies)

20% partner commission
Free license
No commitment or signup fees

15% discount for each client
Free registration

Referral and Co-Sell
Resell
Managed Service Provider (MSP)

Customer support
Email only
Email only
Email

Free Demo

Yes

Free demo available

Yes

Free demo available

No

Free demo not available

Free Trial

7 day free trial

No credit card needed

10 day free trial

Credit card required
How to Create an ADA-Compliant Website
With the right tools and resources, you can also become an example of a website that complies with accessibility regulations. 
1. accessiBe
If you're searching for an affordable and easy-to-use accessibility tool that complies with WCAG, ADA, and Section 508 requirements, consider accessiBe. After a quick installation process, you can have a compliant website within 48 hours and a full accessibility statement that you can display on your site. An accessibility panel on the front end of your website is what will allow visitors to customize their experience according to their needs.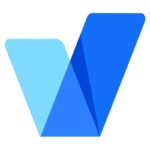 accessiBe
Get started with your website's accessibility with accessiBe's easy-to-use features and technology.
Pros
Account managers available to guide you through the product, pricing, and any questions you may have
Fast turnaround with a 5 min installation, and 48-hour compliance process
100,000+ clients use accessiBe including legal and government organizations
Includes accessibility statement and certification
Cons
Built specifically for websites and small and medium-sized businesses (SMBs)- some web apps might not be compatible
Existing Clients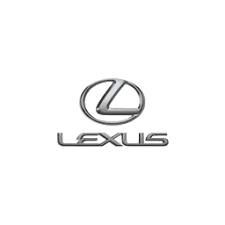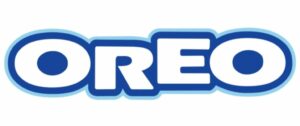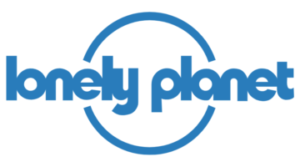 2. UserWay
1M+ installations is a testament to the fact that UserWay is a top accessibility tool. Compatible with 20 major CMS platforms, UserWay ensures compliance with ADA Title II, Section 508, and WCAG guidelines via an accessibility panel that places the power of personalization in the hands of your website visitors. UserWay's affordable and versatile accessibility tools and services are trusted by governments, NGOs, and other world-leading organizations.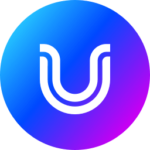 UserWay
UserWay provides users with advanced website accessibility solutions, ensuring ADA compliance without changing or compromising your website's existing code.
Pros
Quick and easy process
1M+ website installations
Affordable cost & dynamic pricing
Multiple solutions and services offered
Cons
Customer support is lacking
Existing Clients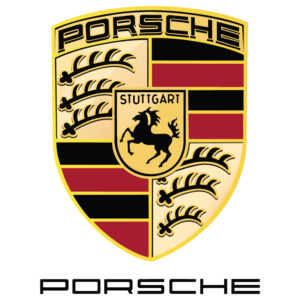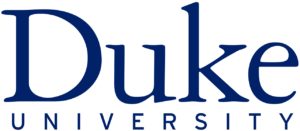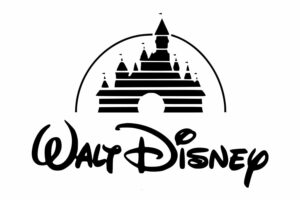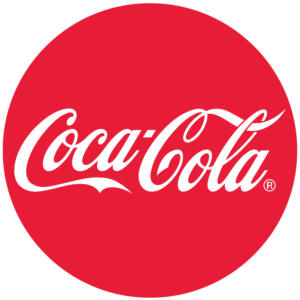 If you want to make your website ADA compliant, here are some steps you can take:
Study these examples of websites thoroughly. The sites we've listed above are some of the best examples of ADA-compliant websites. Use them as inspiration as you build your website or redesign your existing site. 

Find the right tools. The best first step is to test how your website fairs against web accessibility standards. There are a number of tools that you can use to scan your site, including

AccessibilityChecker

. 
Consult with an accessibility agency. Accessibility agencies offer services that can help you build an accessible website for all. Most agencies offer audits and remediation services.
Utilize widgets and plugins.

Widgets and plugins

help you maintain an accessible website more easily. They can help you personalize your site's content and elements, ensuring your users get the best possible experience. You can also utilize

accessible forms

to make sure every user has equal access to this type of functionality. 
Top 5 ADA Compliant Website Examples
If you're looking for ADA-compliant websites that are functional and visually pleasing, we've got you covered. 
Below are just a few of the best websites you can learn from on your compliance journey.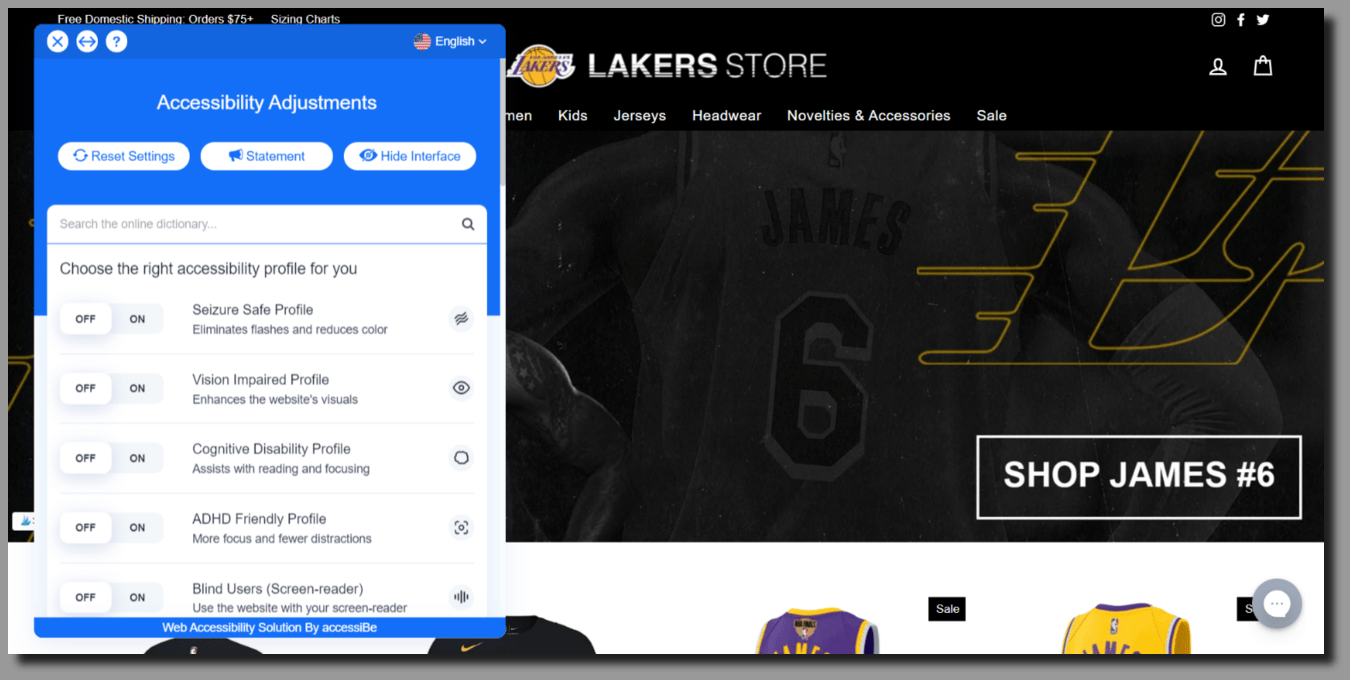 The Lakers Store is one of many top ADA-compliant websites that believes everyone deserves equal access to the internet and all that it offers. And because eCommerce stores are generally a hot target for ADA lawsuits, the site adheres to the Web Content Accessibility Guidelines 2.1 (WCAG 2.1). 
The site is compatible with screen readers and keyboard navigation. It is also epilepsy friendly and allows for font and color adjustments as well as audio muting.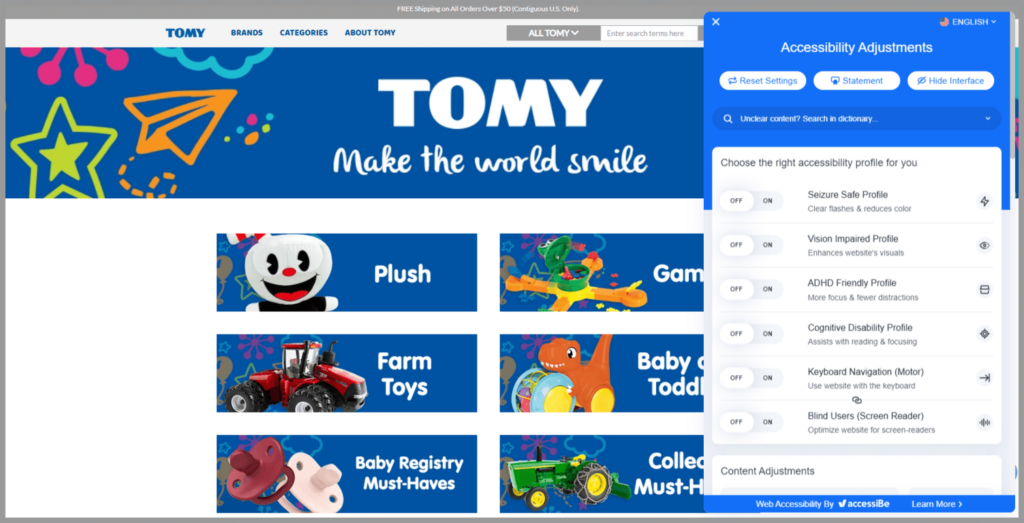 Tomy is serious about its mission to make the world smile and having an accessible website is a big part of that. 
By accessing an accessibility adjustment panel, website visitors are able to make content and color adjustments that meet their needs, mute sounds, and activate profiles that cater to specific disabilities. 
All the gamers out there will be happy to know that PlayStation Gear is another site that complies with accessibility standards. 
With the help of accessiBe, website visitors can shop in a way that works for them. An accessibility adjustments panel is immediately available upon visiting the site, allowing users to tailor their online experience to their needs with the help of various disability profiles and settings options.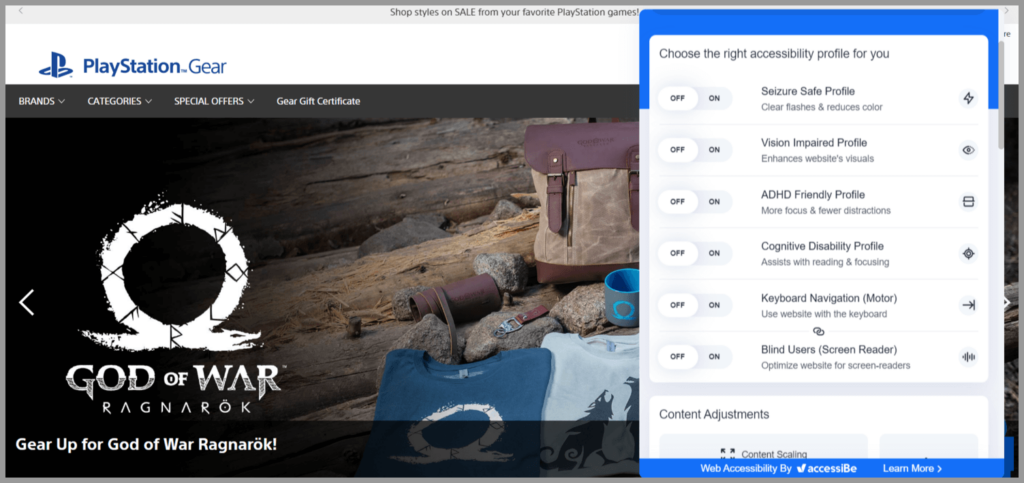 If you're a fan of chicken sandwiches, you're probably familiar with Chick-fil-A, a brand that is serious about web accessibility. 
Using an accessibility panel from accessiBe, website users are easily able to personalize their online experience. Along with adjusting font sizes and on-page color contrast, visitors can turn on specific profiles that cater to different types of disabilities. The brand's accessibility statement is also readily available via this panel.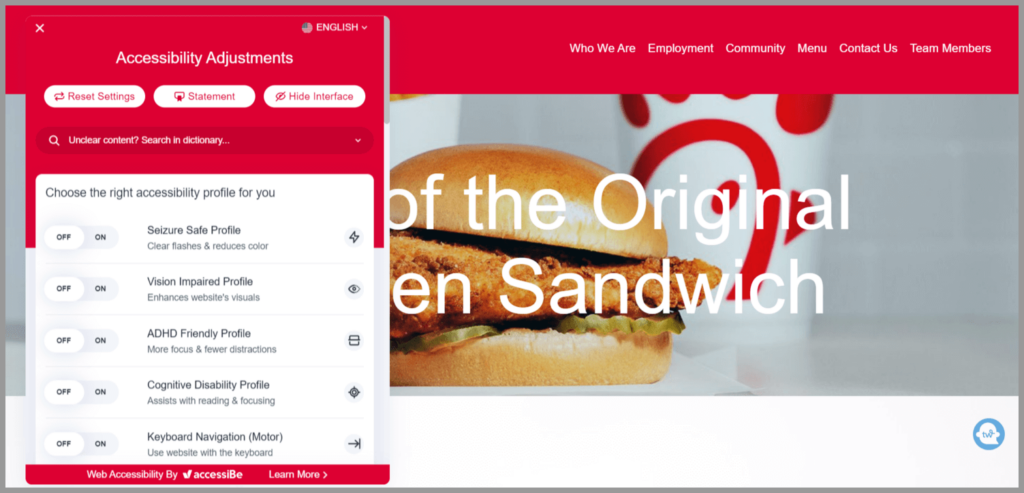 Even though Six Flags is known for its memorable amusement parks, they still prioritize the online user experience too.
The moment a user lands on the Six Flags site, they can read through their accessibility statement and change up the site to make it easier to navigate and engage with. From scaling content and magnifying text to muting sounds and hiding images, there are multiple accessibility options to choose from.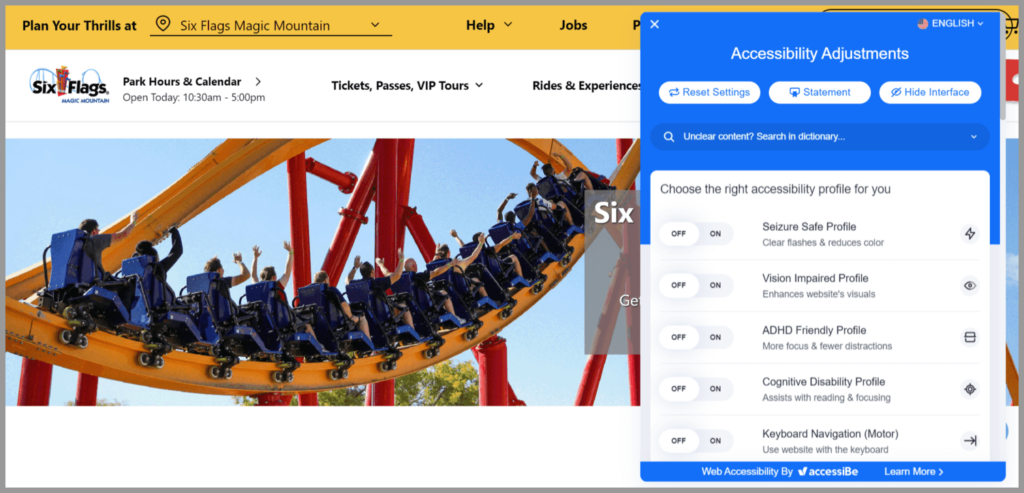 Common Features Among ADA Compliant Websites
Now that you've seen a few top ADA-compliant compliant website examples, it's time to take a closer look at some of the features they have in common.
1) Color contrast ratio
A huge problem for people with visual impairments is that they can't always read text without a high background contrast. For example, if a logo is embedded within an image, it may be impossible to distinguish.
Additionally, colors are important for users with color blindness. Thus, you must keep interaction simple and engaging for users who can't differentiate between colors.
According to the WCAG, regular text on websites should have a color contrast ratio of at least 4.5:1 with the background or adjacent colors.
Lastly, go beyond using colors alone to convey information or instructions. We recommend using AudioEye design tactics to help users easily identify elements on your website.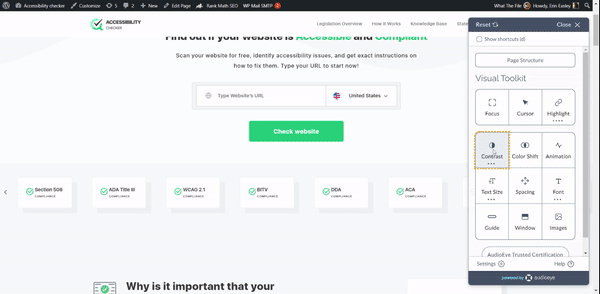 2) Consistent navigation
When driving to a specific destination, we depend on consistent signage – speed limit signs, warning signs, and stop signs. If you need to know how to get from A to B, these guideposts make your life easier.
Just like driving, websites have navigation that helps users get from point A to point B.
Providing users with easy navigation, including site search functionality and sitemaps, is another way to create an ADA-compliant website. 
You should also make sure that your labels, styles, and positions are consistent.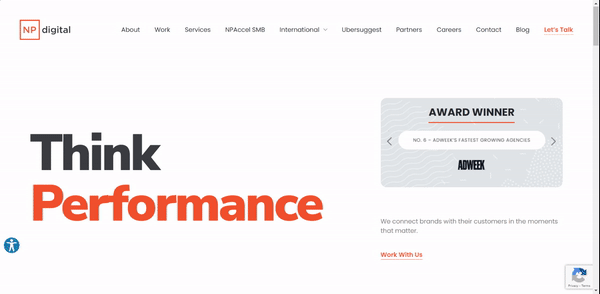 3) Simple headings and spacing
Good design helps users recognize your hierarchy of information. It also ensures they understand the relationship between headlines and your site's elements, including text and images.
Content is also more accessible when using heading styles, white space, and placing elements strategically to reduce clutter. It's important to ensure that the HTML tags for headings are hierarchical too. The headings on Michigan Schools and Government Credit Union are a good example, as they effectively show the hierarchy of the site's content.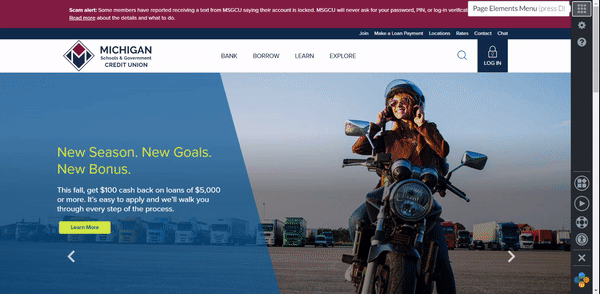 4) Provide alternative text
Creating and delivering a visually pleasing experience is crucial for online businesses. Because of this, businesses use videos and images to enhance their content.
However, many online users are visually impaired and use screen readers to help them access online content and services. This is where alternative text and transcripts come in. They enable screen readers to present the content in an auditory format, aiding visually impaired users.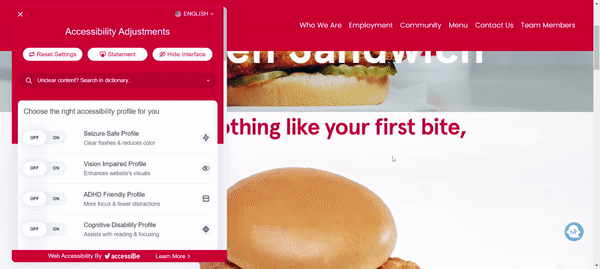 5) Adaptability for different devices
Google rewards websites for mobile-optimized design, but that doesn't mean you should leave out desktop and other platforms. For narrow views, display primary content in one or two columns, and offer secondary content through icons and links.
KissMyKeto effectively uses this capability, providing mobile users with a more accessible view of the site. 
6) Empower users
Carousels are a visually engaging way to display text and images online. However, visually-impaired users experience difficulties with scrolling content.
Accessible scrolling can be seen on the Lakers Store. It allows users to control and pause the scrolling header manually.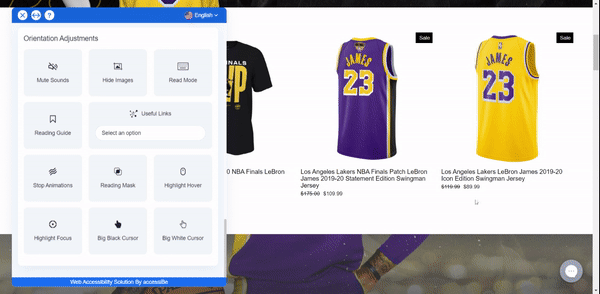 7) Offer alternatives for consuming media
Transcripts of audio and video content are more engaging for users with hearing or visual disabilities. You can also provide different formats for your transcripts.
This is a simple way to make your content accessible to people with disabilities and create an ADA-compliant website. Additionally, accessing the audio transcript of a video or an audio description of a table should be easy.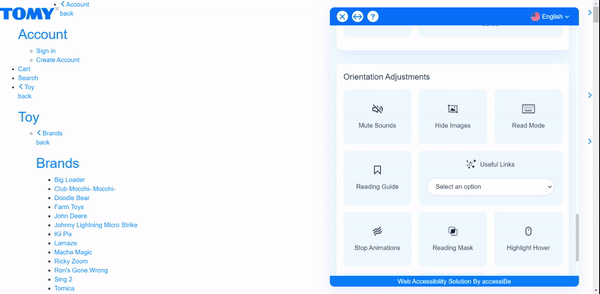 8) Keep updating your website every 3 months   
The required accommodations for disabled users keep evolving. With this, accessibility guidelines and standards change too.
For this reason, it's essential to remain up to date with the latest guidelines and update your website regularly to ensure your website is always compliant. 
Busting Myths Related to ADA-Compliant Websites
Even though web accessibility isn't a new concept, there are still a lot of myths and misunderstandings that persist about what it entails.
Myth: An accessible website is not visually appealing.
This is simply not true. A website can be both accessible and visually appealing. 
We're now able to design websites that are easy to use, even for the most visually impaired.
Additionally, remember that your visitors will be impressed by your website's accessibility, not just your site's looks. 
Myth: Accessible design compromises functionally.
Contrary to popular belief, an accessible website can be fully functional. You can create beautiful, functional, and accessible websites using a set of different parameters.
This myth stems from the notion that creating an accessible website is very complex. However, building an accessible website and having full functionality are not mutually exclusive.
You can achieve both functionality and accessibility simultaneously with the help of accessibility plugins and widgets.
Summary
In the current digital era, website accessibility should be a priority for everyone.
The websites we've shared are just some of the prime examples of ADA-compliant websites and should serve as inspiration for your own site. 
If you  find this article helpful, check these articles below:
Find out where you stand on your web accessibility journey by conducting an audit of your website
Accessibility Checker
Scan your website for accessibility related issues for free
What websites need to be ADA compliant?
Any website that provides products and services to the public or on behalf of another organization needs to be ADA compliant. This applies to businesses of any size and in any sector. ADA compliance is a legal requirement.
How many websites are ADA compliant?
Web accessibility studies have found that less than 2% of websites globally are fully compliant. A fair percentage of websites are accessible in some way, but overall, the vast majority of websites are not capitalizing on the disabled market.
What websites have to be ADA compliant?
If your website offers products and/or services to the public, web accessibility laws and requirements apply to you. If your website is discriminating against people living with disabilities, you are at risk of costly lawsuits.
How to make websites ADA compliant?
Making your website accessible means ensuring it can be fully accessed by those with disabilities and people using assistive technologies. Some of the most basic changes you can expect to make include:
Adding alt tags to images

Adding transcripts to video and audio media

Adjusting color contrast ratios

Reviewing your site's elements, including buttons, links & headers