Website Accessibility
UK Equality Act
The Definitive Guide (2021)
If you own a website in the United Kingdom, there's a good chance you've heard about website accessibility.
What does it entail though, and is it something you should be concerned about?
In this in-depth guide, we'll cover:
EQA compliance and web accessibility basics

Why UK websites need to be compliant

How to reduce the risk of EQA-related lawsuits

As well as other helpful tips you'll want to save for later
This is your chance to learn everything you need to know about web accessibility in the UK. 
Let's get into it. 
Chapter 1:
EQA Compliance & Web Accessibility Fundamentals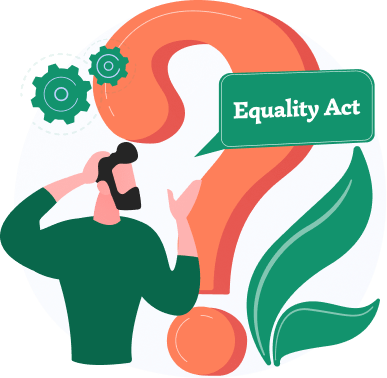 Many business owners don't immediately recognise the opportunities that web accessibility offers. It's a chance to innovate, expand your reach and grow your business.
This first chapter will cover the history of the EQA as well as some of the basics of website accessibility. 
Here is what you need to know as a website owner in the UK.
Requests for EQA Demand Letters are on the Rise
Web accessibility lawsuits are affecting businesses across the United Kingdom. 
Regardless of the size of your business, if your website is not EQA compliant, you're at risk of receiving a demand letter yourself. 
But how are websites and the Equality Act 2010 (EQA) connected?
According to
The Big Hack
, well over 14 million people living in the UK are disabled – that's well over 20% of the population that requires assistance to access products and services online.
This means if your website isn't accessible to everyone, regardless of ability, your business is potentially losing out on billions-worth of additional revenue every year. You are also opening your brand up to unnecessary lawsuits, which are both time-consuming and costly. 
What's more, a
report by Accenture
indicates that consumers with disabilities, are generally more brand loyal and tend to spend more than other customers. Even more reason to make web accessibility a priority.
History of the EQA
The
EQA
(Equality Act 2010) was passed during the Brown ministry and was the result of years of equality and human rights campaigning in the UK. The act brings together over 100 individual pieces of legislation and was officially enforced on 1 October 2010. 
Today, the act protects the rights of individuals with disabilities, ensuring a more equal society for all. 
What Is the EQA?
The
EQA
covers the standards that website owners need to meet to avoid discriminating against consumers with disabilities.  
Section 20 and 29 of the act indicate that product and service providers need to take steps to provide an equal experience for all both online and offline and that discrimination based on ability is strictly prohibited. 
Basically, website owners are required to anticipate the needs of disabled customers. This includes websites and apps, as well as email and cloud-based products. 
This act applies to website owners in England, Scotland and Wales. 
What about European accessibility laws though?
Let's take a closer look. 
Are European Accessibility Laws Still Applicable?
Now that the UK is no longer a part of the EU, does the EU Web Accessibility Directive and European Accessibility Act still apply?
Yes, the
EU Website Accessibility Directive
still applies to websites in the UK. The directive states public sector bodies with websites or apps must comply with
WCAG 2.1 Level AA
, which is the benchmark of web accessibility. An accessibility statement listing any areas of a website that don't meet these standards also needs to be published. 
Then there's the European Accessibility Act (EEA). It's not yet clear whether websites still need to comply because when the UK left the EU, the EEA wasn't yet written into UK law. This doesn't mean you should ignore these requirements completely though. 
If you are selling products or services within the EU, it's best to comply with EEA regulations. 
EEA accessibility requirements are pretty much the same as the EQA and EU Website Accessibility Directive with the exception that the focus extends beyond web and mobile applications to additional digital products.
Chapter 2:
The Effects of Non-Compliance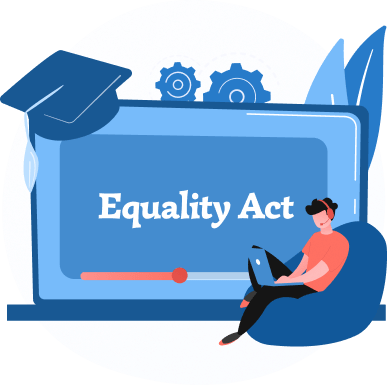 Now that you know more about the accessibility laws impacting website owners in the UK, you're probably wondering how your business could be impacted.
Let's take a look at the effects of not complying with EQA regulations and how you can avoid costly lawsuits. 
Website Accessibility Matters
Did you know that
1 in 5 people
living in the UK has some form of impairment or disability?
As a business and website owner, you need to do more than just place your products, services and content online. You also need to make sure that everyone can use your site in a way that works for them. 
Based on a report by
WebAIM
, a small 1% of websites are likely to meet web accessibility requirements, which is surprising considering the increase in EQA lawsuits. 
Web accessibility benefits everyone. Not only do you give all consumers the opportunity to access your site, products and services, but you also decrease the risk of legal issues. Over and above this you are also boosting your brand's reach and reputation, which offers long-term benefits. 
Does the EQA Apply to Your Website? 
All public sector bodies need to comply with the Equality Act (2010), including:
• Central government organisations
• Local government organisations
You may be exempt from these laws if:
• You are a non-government organisation such as a charity. However, if you are publicly funded or provide essential services to the public or disabled community, you are not exempt.
• You are a public sector broadcaster or subsidiary. 
You could also qualify for a partial exemption if you are the owner of a primary or secondary school or a nursery school. With that being said, you will still need to publish an accessibility statement on your website. 
Next, let's look at who needs to comply with European accessibility laws.
EU Web Accessibility Directive Compliance
As with the EQA, any public sector bodies with websites or mobile apps must comply with the standards set out in WCAG 2.1 Level AA. These regulations do not apply to the private sector. However, this might not be the case if you are a third-party organisation that regularly does business with public sector organisations.
EEA Compliance
Any UK-based businesses that sell products and services within an EU state need to comply with the EEA. 
It's also important to note that the act covers more than just websites and apps though. You also need to comply if you provide:
• Ticketing systems
• Telephony services
• Operating systems
• ATMs and banking services
• Audio-visual services
• eBooks and eReaders
The Consequences of Non-Compliance
Every year, the Central Digital and Data Office (CDDO) examines a percentage of public sector websites and mobile apps to check accessibility. The CDDO has the right to request access to your site or app at any time. 
The CDDO is also responsible for investigating any complaints about public sector sites and mobile apps, ensuring equal access for all. 
Should the department determine that a public sector body has failed to comply, the name of the body and a copy of the decision is published. 
From there, the Equality and Human Rights Commission (EHRC) in England, Scotland and Wales will enforce accessibility requirements. Organisations who fail to meet the necessary requirements will be in breach of the Equality Act (2010). 
The result is the delivery of unlawful act notices and court action, which could lead to high legal fees and a loss of reputation, both of which are detrimental to the future of your business. 
Similar outcomes apply to businesses that don't comply with the EU Web Accessibility Directive and European Accessibility Act. Legal action and costly penalties can be expected.
Where to from here?
It's clear that the UK takes accessibility issues very seriously, which means it's in the best interest of your brand and business to comply. 
Not only can you avoid the financial risks and loss of reputation, but you can support a movement that aims to create a more equal society for all.
Let's look at how you can achieve this.
Chapter 3:
How to Make Your Website Accessible & EQA Compliant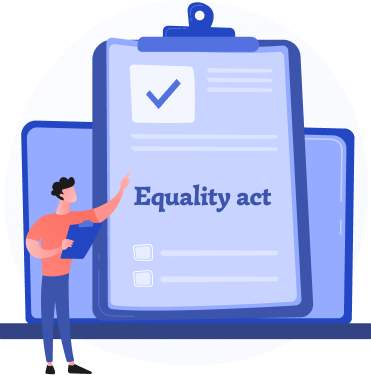 Ready to cover your bases to avoid EQA lawsuits and boost your brand?
In this chapter, we will take you through the steps you need to take to become EQA compliant. 
Let's get this done.
The Basics of WCAG (and Why They Matter)
WCAG (Web Content Accessibility Guidelines) are the guidelines that most accessibility laws are based on. This can be an overwhelming document though, which is why we've simplified it. Compliance is about to get a whole lot easier.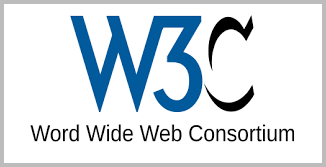 Elements that need to be accessible
To make your website accessible, there are a few key things you should focus on first:
Images, audio and videos.
If your website has images, audio and/or videos, alternative text that can be read by a screen reader needs to be added. It also ensures search engines better understand your content. 
Links.
An accessible website has descriptive links instead of generic links to provide screen reader users with more context. 
Navigation.
All users should be able to navigate your website using only a keyboard. 
Website structure.
Accessible websites need to incorporate semantic markup, which makes it easier to read content and data. This includes adding markup to identify headings and tables. 
Colour.
If you use colour to convey meaning on your site, alternative text should be used. There should also be a sufficient colour contrast ratio to accommodate users with low vision.
Fonts and formatting.
All of the copy on your website should allow for skimming and be available in accessible fonts. If a user zooms in to read text, there shouldn't be any loss of functionality either.
Meeting compliance requirements
There are a few things you need to do to be compliant with EQA, EU Web Accessibility Directive and EAA laws and regulations.
1. Meet WCAG accessibility requirements
2. Publish an accessibility statement
What to do next?
Let's go into detail on how you can comply with accessibility laws:
Meeting WCAG accessibility requirements
There are two ways that you can comply with WCAG accessibility standards.
The first is to add a website accessibility interface.
Doing so means any visitor can adjust the interface and design of your site to suit their needs. An accessibility interface caters to users with:
Visual impairments.
Visitors can adjust text size and colours for ease of use.
Cognitive disabilities.
Make it easier for visitors with disabilities such as autism or dyslexia to understand your site.
ADHD.
Limit distractions to accommodate visitors with neurodevelopmental disorders.
The second step is to implement assistive technologies.
These technologies are designed to make it easier for visitors with disabilities to navigate and use your website. 
Screen readers.
This technology was created for visually impaired users. A screen reader makes it easier to consume online content, including text and images. This is one of the reasons why it's important to add alternative text to all media on your site. 
Navigation tools.
This technology was designed to assist those without full motor motion. These tools allow for faster navigation and the ability to take action using specific keyboard keys and shortcuts on your site. 
Publishing an accessibility statement
The second major compliance step is to create an accessibility statement.
This document should be visible to all website visitors and contain the following information:
• An open commitment to providing an accessible website
• The guidelines and standards that your site adheres to
• Web accessibility exceptions
• Who to contact about website difficulties
Recommended Web Accessibility Service Providers in the UK
Understandably, this is a lot of information to take in. But the good news is that there's no need to implement all these changes manually. Not only is a manual approach unnecessary, but it's time-consuming and costly too. 
Thanks to semi-automated tools, businesses can make websites more accessible to users with disabilities.
AudioEye is Our Top Choice
If you want a simple solution, we highly recommend AudioEye. This semi-automated tool is both advanced and affordable. It combines AI algorithms with IAAP-certified experts to make EQA compliance that much easier.  
AudioEye's patented algorithms are set up to alter most of your site's code. The rest of the changes are manually implemented by industry experts. 
There aren't many solutions that are this powerful and that allow for full compliance, reducing the risk of EQA lawsuits. 
If you would like to look into other options, consider accessiBe and essential accessibility
Uncover Where Your Website Stands
Get a Free Website Scan
Want to confirm whether you should be concerned about costly lawsuits and damage to your brand's reputation? 
If your report indicates website accessibility issues, you will have the opportunity to make the necessary fixes before they become bigger concerns. To make the process even easier, your report will show you exactly how to fix each problem.
Chapter 4:
Summary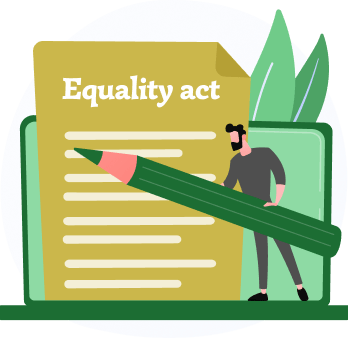 We hope this guide has provided you with all the information you need to make your website accessible quickly and easily. 
And if you do find a few compliance issues, don't hesitate to take advantage of semi-automated solutions such as AudioEye to speed up the process.
Taking the time to achieve EQA compliance is always worthwhile, for both your brand and your customers.