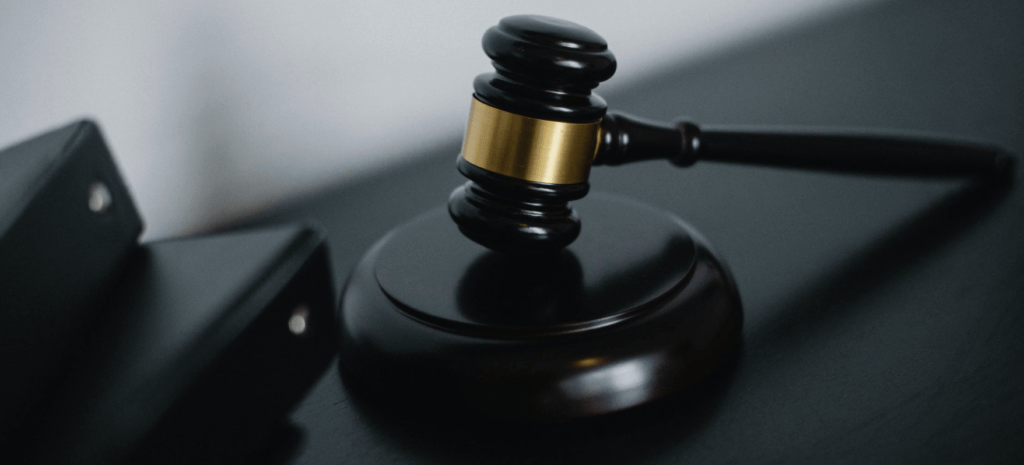 10 September 2021
5 minutes
Website Accessibility
Is Web Accessibility A Legal Requirement?
The short answer is yes. The aim of the ADA is to remove barriers to people living with disabilities in all areas of life, with websites in recent years becoming the main target for lawyers.
Websites and apps are integral to our everyday lives, and that's precisely why the internet needs to be open and accessible to everyone, including people who suffer from visual, physical, cognitive or auditory impairments.
But is it a legal requirement? Let's examine it together.
Title III of the ADA
The Americans with Disabilities Act of 1990, or in short the ADA, consists of five sections (known as titles), each relating to a different area of public life. The titles are:
Title I: Employment

Title II: Public Services: State and Local Government

Title III: Public Accommodations and Services Operated by Private Entities

Title IV: Telecommunications

Title V: Miscellaneous Provisions
Websites, although not specifically named, are now widely considered a place of public accommodation in most court rooms.
This makes website owners liable to make their website accessible to people living with disabilities. You can read in detail about the ADA in our Definitive Guide for ADA Compliance for Websites in 2021.
The organization in charge of enforcing the ADA is the Department of Justice. How do they view web accessibility?

The DOJ's Stance on Web Accessibility
In 2017, the case of Magee v. Coca-Cola Refreshment USA reached the United States Supreme Court. The issue at hand? Whether or not Coca-Cola's vending machines were to be considered a place of public accommodation. The  Department of Justice's (DOJ) reaction was telling. It stated, "The court of appeals correctly held that the beverage vending machines at issue are not 'place[s] of public accommodation' under Title III of the ADA." 
But what does this have to do with web technologies? The statement continues as the DOJ included that: "Questions concerning Title III's application to nonphysical establishments—including websites or digital services—may someday warrant this Court's attention . . . this case is not a suitable vehicle for addressing those emerging issues, however, since the petitioner encountered the respondent's machines in person, not by telephone or over the Internet." 
Just a year later, in a letter dated September 25, 2018, the DOJ sent a letter to Congress addressing and clarifying its view on whether or not websites are included in Title III of the ADA. The DOJ confirmed its belief that websites should be considered places of public accommodation and adhere to title III of the ADA.
The web is becoming more inclusive, and eventually we will reach an accessible web.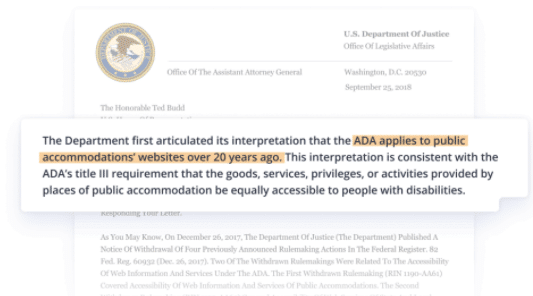 What Is The WCAG 2.0?
In most cases, the guidelines and standards most broadly accepted for digital accessibility can be found in the WCAG 2.0. WCAG, or the Web Content Accessibility Guidelines, refers to a series of guidelines that provide information about web accessibility to individuals and businesses. The guidelines were developed by the Web Accessibility Initiative (WAI) of the World Wide Web Consortium (W3C), and have a few versions, one of the most recent is WCAG 2.0. These guidelines give website owners instructions and information on how to meet website compliance standards.
WCAG guidelines have a compliance rating that ranges from A (the lowest) to AAA (the highest). The general standard for more websites is to meet WCAG 2.0 guidelines with AA success criteria. 
How To Make Your Website ADA & WCAG Compliant?
To best protect yourself and your business from lawsuits, you should pursue a good-faith effort to provide your website and mobile app users with reasonable access for people with disabilities. Staying ahead of the regulatory curve, especially in the current murky waters, by developing a compliant website can help you save valuable time and resources. 
What's more, a fully compliant website allows you to reach and to serve more users successfully. This can easily lead to an increase in sales, improved search engine rankings, and exposure to a wider community of users. 
The majority of rulings and the accepted common standard for website accessibility is to follow WCAG 2.0 Level AA. To understand where your website currently stands, start with a free audit of your website. Enter your site address here with our free WCAG website audit, learn where your vulnerable points are and what steps to take toward compliance.  
Alternatively, you can read our recommendations for the best automated tools to make your website accessible in 2021.